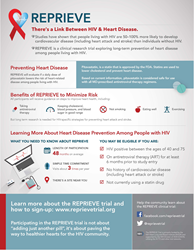 "Clinical trial volunteers play an essential role in the work to end AIDS, and their participation in REPRIEVE is essential to helping us find a prevention treatment strategy to effectively reduce HIV-specific heart-related disease," said Dr. Grinspoon
Boston, MA (PRWEB) April 12, 2016
One year ago, the National Institutes of Health's National Heart, Lung, and Blood Institute (NHLBI) and National Institute of Allergy and Infectious Diseases (NIAID) launched REPRIEVE – The Randomized Trial to Prevent Vascular Events in HIV study. The trial is designed to investigate among people living with HIV whether statin use can prevent a very common comorbidity – cardiovascular disease. To date, the clinical trial has enrolled nearly 1,200 participants living with HIV across approximately 85 trial sites.
"The success of antiretroviral therapy has led to people with HIV living longer. Yet people living with HIV are more likely to develop cardiovascular disease, such as heart attacks and strokes," said Dr. Steven Grinspoon, Co-Principal Investigator of the Clinical Coordinating Center for REPRIEVE, Director of the Massachusetts General Hospital Program in Nutritional Metabolism, and Professor of Medicine and Director of the Nutrition Obesity Research Center at Harvard Medical School. "In fact, 15 percent of deaths among people living with HIV are related to heart disease, making the need to identify prevention strategies crucial."
Heart disease may be due to risk factors related to having HIV, such as chronic inflammation, as well as traditional risk factors such as smoking and abnormal cholesterol levels. People living with HIV are 50-100 percent more likely than people without HIV to develop heart disease. This increased risk of heart disease is seen even among younger HIV-positive people, including those in their 40s to 50s. In addition, women with HIV are nearly three times more likely to have a heart attack compared to women without HIV.
"Through awareness and participation in clinical trials, people with HIV have helped to accelerate the development of life-saving antiretroviral therapeutic treatments," said Dr. Grinspoon. "Clinical trial volunteers play an essential role in the work to end AIDS, and their participation in REPRIEVE is essential to helping us find a prevention treatment strategy to effectively reduce HIV-specific heart-related disease."
To learn more about REPRIEVE and for more information about trial sites, including a list of clinical trial sites and contact information, please visit http://www.reprievetrial.org or clinicaltrials.gov using the study identifier NCT02344290
About REPRIEVE
REPRIEVE is a clinical trial designed to evaluate whether pitavastatin, a statin medication used to lower cholesterol and prevent heart disease in the general population, also prevents heart disease among people with HIV. Researchers hypothesize that statins, by targeting inflammation, should reduce coronary plaque development and improve cardiovascular outcomes in patients with HIV. The study will also offer important data about the effect of statins on the liver and kidneys as well as their potential effect on incidence of cancer among people living with HIV.
The REPRIEVE study aims to enroll 6,500 participants between the ages of 40 to 75 years across 100 trial sites in United States, Canada, Puerto Rico, and Thailand by the end of 2017. Participants will be followed for an average of four to five years. For more information about REPRIEVE, including a list of clinical trial sites, please visit http://www.reprievetrial.org
Media Contact:
Ryann McCallen
212-601-8355
ryann.mccallen(at)porternovelli(dot)com