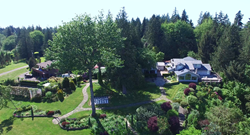 Teens are stepping out of life and into their device
(PRWEB) November 17, 2016
North of Seattle's tech district, a silent movement is being made to address a growing need. reSTART Life, the pioneer in specialized treatment for Internet and videogame addiction, is opening the nation's first adolescent center dedicated to Internet Gaming Disorder (IGD).
Located at Serenity Mountain, a 32-acre property nestled on a hillside that overlooks the Cascades, the Sky Ridge and Wood Creek residences each offer eight beds making up the 16-bed campus.
"This is a much-needed resource for families, "said Cosette Rae, CEO of reSTART. "The need is great and availability is scarce, but hope and understanding are in no short supply. Our office has received thousands of calls from parents over the years and the ages of children who need help are continually getting younger. These children are choosing to step out of life and into their device."
reSTART's adolescent treatment program will range from eight weeks to 12 months. It will use a three-phase approach, which encourages participants to take a break from all technology, develop a plan to manage their digital dependence, and then strive to implement that plan with support from specialized therapists and clinicians.
"When making Screenagers, I had to look hard to find cases of internet and video game addiction," Delaney Ruston, MD, director of SCREENAGERS: Growing up in the digital age, says "but since its release, I have heard from many distraught parents who are experiencing this reality with their teenagers. My hope is that we will have many more places like reSTART in our country."
According to Pew Research Center, 73 percent of American teens have access to a smartphone, 87 percent have access to a computer, and as many as 91 percent of teenage boys have access to a gaming console. With increasing access to digital media, problematic use is a growing concern. Some studies have shown that rates of addiction may be approaching 10 percent in certain populations.
About reSTART Life, LLC: Headquartered in Fall City, Washington, reSTART is a leading advocate for healthy sustainable digital media use (Internet, VR, and videogames) for people and the planet. reSTART has been treating young adults (18-30) since 2009.
Connect with us to learn more:
Online: http://www.netaddictionrecovery.com