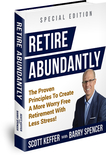 As the co-founder of a family business, I can highly recommend this book. - Rich DeVos, co-founder of Amway & owner of NBA Orlando Magic
Atlanta, GA (PRWEB) September 07, 2016
The creators of Wealth With No Regrets® are hosting a special briefing for millionaire business owners, executives and professionals on tax reduction strategies and retirement income opportunities. This will inform the millionaire business owner, executive and professional in north Atlanta about the latest tax saving strategies that can be used to help meet their retirement income needs.
Retirement confidence is in crisis led by the reduction in company pensions and shrinking Social Security benefits. The previous retirement generation had eighty to even one hundred percent of their essential lifestyle need met by income they could count on.
The Boomer generation has turned retirement confidence into an epidemic by being the largest retirement generation the country has known. By 2030, 1 out of every 5 Americans will have celebrated their 65th birthday.
As this generation approaches retirement and the desire to be done working for income they now realize they must now create their own sources of, secure retirement income, to meet their lifestyle needs.
For the first time in this country retirees have to count on 401k, IRA, annuity and investment money as their primary sources of income in retirement to meet their basic living needs and not just their wants.
It is not surprising that uncertainty reigns supreme in this era of retirement as the fear of running out of money is fueled by increasing taxes, cost of living increases, higher standards of living, rising health care costs and living long lives.
Taxes on capital including income, capital gains and estate taxes are a focus of this special briefing from the creators of Wealth With No Regrets® because there are many opportunities to reduce the tax burdens faced by today's retirees.
Attendees of the briefing will gain insights from their use of research, interviews and actual examples of failures and success in retirement planning. Tax and retirement income specialists Barry H Spencer and Scott Noble have designed this free special briefing for retired and soon-to-be-retired executives, business owners, senior level leadership, professionals and women on their own with wealth.
For more resources and to find out more about the next retirement special briefing on Thursday, September 22 at Ruth's Chris Steakhouse in Alpharetta visit, RetireAbundant(dot)com