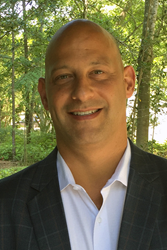 Nick's passion for transforming actionable visions into executable plans aligns very well with Sinclair Group's intention.
The Woodlands, Texas (PRWEB) June 16, 2016
Sinclair Group, a results-oriented consultancy, has expanded their leadership team with the addition of Nick Revelas as Senior Vice President and Global Engagement Leader.
Nick's deep, cross-disciplinary knowledge and experience in the energy industry, along with his passion for the intersection of people, process and technology, has put Nick on the front line of high value, business-driven projects that impact workforce teams across the globe. His commitment to the client's bottom line has kept him there.
A keen eye for the organizational impacts of any change effort, coupled with his ability to build strong sustainable organizations, Nick's passion for transforming actionable visions into executable plans aligns very well with Sinclair Group's intention to address the needs of individuals and organizations to ensure that investments in operational improvements yield lasting results.
Nick's experience spans not only multiple client organizations, but also critical industry topics including process safety information management, operations, maintenance, and reliability. His incisive counsel led to his pivotal role in Chevron's Facilities Engineering organization as lead in the development of the engineering digital competency program supporting a large, multi-national workforce. At Rolls Royce Energy, his acute analytical skills enabled him to guide the development of and market deployment for the turbo machinery Predictive Analytics program.
Sinclair Group's CEO, Terry Welch, had this to say about Nick's appointment, "Nick has developed a strong client following through the consistent focus on adding significant project value, versus simply providing traditional client service. He is known for his 'bridging' ability to unify disparate stakeholder groups under a single vision. He challenges organizational teams to incorporate stakeholder feedback to reduce variability, minimize business disruption, and simultaneously work through all available channels to eliminate barriers to on-time, on-budget program completion. We are thrilled to leverage his strong background with owner-operators and suppliers in the energy industry. I am confident clients will enjoy his collaborate spirit."
About The Sinclair Group, Ltd.
Sinclair Group powerfully aligns business, operations, and organizations to help clients achieve extraordinary improvements in financial, operating, reliability and safety performance. The global consultancy leverages a transformational methodology that integrates organizational culture, organization behaviors, processes, and systems in such a way that it inspires people to assume, perceive, behave, and commit to a greater possibility than previously thought possible. Learn more at http://www.sinclairgroup.com.