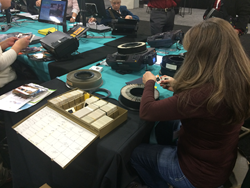 "We were thrilled to once again offer scanning to RootsTech attendees." --Richard "Rick" Lippert, president, E-Z Photo Scan.
Altamonte Springs, Fla (PRWEB) February 11, 2016
E-Z Photo Scan, the leading marketer of desktop photo-scanning systems, announced more than 80,000 photos and documents pages were scanned at RootsTech 2016, Feb. 3-6, in Salt Lake City. E-Z Photo Scan offered free scanning of treasured photos and document pages at its booth and at the Family Discovery Zone sponsored by FamilySearch, featuring Kodak Picture Saver Scanners, as well as book scanning sponsored by FamilySearch. The E-Z Photo Scan booth also featured products from SlideSnap, ShotBox, FilmToaster and Vivid-Pix.
"We were thrilled to once again offer scanning to RootsTech attendees," says Richard "Rick" Lippert, president, E-Z Photo Scan. "Some people drove in from miles away, bringing in thousands of pictures. It was heartwarming to help these people preserve their invaluable family memories."
The same equipment used to scan slides, photos and documents at RootsTech is also available for sale or for rental at http://www.ezphotoscan.com.
ABOUT E-Z PHOTO SCAN
Founded in 1995, E-Z Photo Scan has worked with many community centers, historical societies, museums, and individuals to help them organize and preserve their photos and documents. Their team has long recognized the need for photo organization and management service providers, having seen individuals who find digitizing photographic archives to be a daunting, expensive and time-consuming task. It was awarded Kodak Picture Saver Scanning Systems Global Value-Added Re-Seller Leader of the Year.
ABOUT ROOTSTECH
RootsTech is a global family history event, where people of all ages learn to discover, share, and celebrate their family connections across generations through technology. RootsTech will be held on Feb. 8-11, 2017 at the Salt Palace Convention Center in Salt Lake City, Utah.
ABOUT THE INFORMATION MANAGEMENT DIVISION OF KODAK ALARIS
Kodak Alaris is a new company driven by the simple belief that "we can always find a better way." Our Information Management division helps organizations capture content from digital and paper sources, extract insights, and deliver the right information to the right place at the right time for better business outcomes. Our portfolio includes award-winning document scanners, a global service and support team, and software and solutions that capture and intelligently manage information. For small offices and large-scale organizations, we provide new ways to automate processes, improve customer interactions and make smarter business decisions.