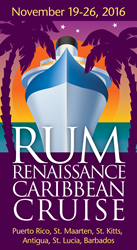 It's a rum lover's dream come true: setting sail through the Eastern Caribbean on an adventure to discover how great rum is produced, aged and blended.
Miami, FL (PRWEB) June 16, 2016
A seven day holiday cruise through the Eastern Caribbean, featuring VIP tours of rum distilleries along the way, is set to sail from Puerto Rico on Saturday, November 19.
Details of the 2016 Rum Renaissance Caribbean Cruise were recently announced by the Burr family, producers of the Miami Rum Renaissance Festival and publishers of Robs Rum Guide. Robert A. Burr and his wife Robin will lead the land tours in Sint Maarten, St. Kitts, Antigua, St. Lucia and Barbados, visiting rum shops, rum tasting rooms and distilleries.
Rum cruisers will meet rum experts from around the world, find great rum bargains on each island and revel with fellow rum enthusiasts.
The group will depart Puerto Rico on the Royal Caribbean Adventure of the Seas on a seven night cruise in search of Caribbean rum, returning to San Juan on Saturday, November 26. Guests will enjoy Thanksgiving Day in Barbados with specially planned events and a fabulous holiday meal.
The cost of VIP distillery tours with transportation is $300 per person, in addition to the cost of the cruise. The official travel agent coordinating the rum cruise is Deb Fogarty of Be Well Travel in Ft. Lauderdale, Florida.
"Rum enthusiasts and their friends will especially enjoy this unique opportunity to learn more about their favorite Caribbean spirits -- up close and personal -- on these exclusive guided tours by some of the most knowledgeable people in the world of rum," said Ms. Fogarty. "We are privileged to offer a holiday cruise itinerary that combines all the luxuries of this modern ship with rare VIP access, special tours and fine rum tastings at these iconic distilleries and rum shops along the way."
Space for the VIP tours and tastings is limited. Call 954-778-5699 for booking details or email: Deb(at)bewelltravel(dot)com.
For more details on the 2016 Rum Renaissance Caribbean Cruise, see the Rum Renaissance Caribbean Cruise web page. http://www.rumrenaissance.com/Cruise.html