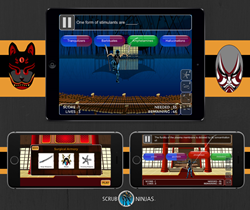 Priceless & Beneficial - Julie Cox, RN
Eugene, Oregon (PRWEB) May 11, 2016
By playing video games, students preparing for standardized tests can slice through their study material as stealth ninjas & supercharge their memory at the same time. Scrub Ninjas® is a series of innovative study review games designed for students in nursing school (taking the National Council Licensure Examination/NCLEX exam), pre-med undergraduates (sitting for the Medical College Admissions Test/MCAT exam), and high school students (enrolled in Advanced Placement/AP biology & psychology courses).
Why Students Love Scrub Ninjas®:
*Rapid Review: Recent learning research demonstrates that frequent testing of exam content while taking courses or in-between study sessions is a highly productive way to improve memory retention of high-yield facts. By reviewing short bursts of information in what would typically be a non-learning activity, players are challenged to interact with the material outside their comfort zone in a more engaging setting.
*Game Based Studying: Conquer your exams by playing an action-packed ninja themed video game designed to make learning fun. Arm yourself with epic surgical infused ninja weapons, traditional Japanese masks and battle arenas.
*Play Anywhere, Study On-The-Go: Scrub Ninjas®, a rapid review game, is designed to be played in situations where normal study does not occur (i.e. as a passenger, on a plane, waiting in line for a coffee, between classes, in bed, etc.).
*Low cost: One low price. No subscriptions or expensive fees.
Testimonials:
"Gorgeous presentation, art style and don't get me started about the music - meditative and mindful - perfect for studying and concentration. Overall - a polished piece of indie gaming that you should be proud of." – Arun Matthews, M.D (NERDCORE MEDICAL)
"Priceless & Beneficial: I am a registered nurse. I am so impressed with this app. I can only imagine how many people this will help prepare for the NCLEX exam. I believe anyone who uses this tool will be better prepared and more confident in their knowledge. Easy and entertaining too!" Julie Cox, RN
Scrub Ninjas® Games:
NCLEX RN PN Exam Review Qbank: 1,100 high-yield exam questions written and edited by nursing professors and nursing students who recently excelled on the NCLEX. Buy this entire NCLEX review app for only $19.99.
MCAT 2016 Review: Biology, Psychology, & Physical Sciences- 3 unique apps specifically designed for the updated MCAT format. These include MCAT review games for the Biological Sciences (1,000 biology & biochemistry questions for $9.99), Physical Sciences (800 general chemistry & physics questions for $9.99), and the Behavioral Sciences (2,000 psychology & sociology test questions $19.99). Try each for free or buy all 3,800 MCAT review multiple choice test questions (MCQs) in our MCAT TRIAD bundle for $29.99.
AP Biology & AP Psychology: Get a head start on college credit by playing the AP Biology (1000 questions for $9.99) AP Psychology (800 questions for $4.99) Try each for free, or purchase individually.
Scrub Ninjas® Is Available On:
Company:
Digital Nomads Edu., an interactive platform for free-style learners offering multi-faceted educational systems for students of higher learning. Founded by T. Raven Meyers, Designer & Technologist