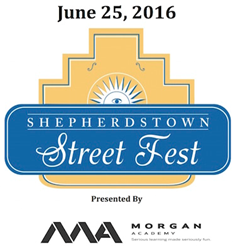 Music, Artisan Gallery, and Kids Camp - Best Band Festival in WV
Shepherdstown, West Virgina (PRWEB) June 08, 2016
Shepherdstown Street Fest is a free summer music festival in the small German town of Shepherdstown, West Virginia. Just one hour outside of metropolitan DC, the festival celebrates new and upcoming bands with a ten-hour music extravaganza on June 25th. Understanding the wide array of music talent that will be descending on this town is the best way to comprehend why for music lovers this is a must-attend musical festival. But the surprise that awaits the visitors is the artisan gallery with over fifty plus juried vendors showcasing their wares down German Street.
"There are many wine and music festivals that have craft and artisan vendors. The Shepherdstown Street Fest stands out because of its devotion to the town and the high quality of both musicians and artisan vendors. Since the town is a great place to raise a family, the festival also ranks number one for its Kids' Camp organized by the festival title sponsor, Morgan Academy. Go Blue Ridge Travel's (GoBRT) mission is to select the best multi-generational road trips here in the valley and the Shepherdstown Street Fest is a winner for all generations," said Nancy Craun, founder and owner of GoBRT. "This festival is great because its organizers want to showcase the town of Shepherdstown and give back financially. Up and coming local bands have the opportunity to play next to top musicians. The artisan gallery is the best in the Shenandoah Valley"
The festival highlights Shepherdstown history as the oldest town in West Virginia. "First and foremost, the festival is a fundraiser," says, Bob Keel, President. "For 2016, we are proud and excited to announce that our regional non-profit is CASA-EP, Court Appointed Special Advocates of the Eastern Panhandle and that our local donation will go to the Shepherdstown Day Care, a non-profit that provides care and educational experiences for children from 12 weeks to 10 years."
The bands featured in the street fest are selected based their popularity. "We pick bands that can draw crowds from different areas with a major emphasis on the popularity of this band in Shepherdstown," says Bob Keel, Main Stage Coordinator. This year's headliner band is 'Christian Lopez Band'.
Raised in the small town of Martinsburg in the eastern panhandle of West Virginia, Christian Lopez has been playing music all his life and playing in several local bands before finally emerging to center stage to perform his own songs as the Christian Lopez Band. Alternate Root named Lopez one of its Top 25 artists in 2015, noted "There are guys twice Lopez's age making records that are only half as good. Preternaturally wise and notably talented, this is a kid to watch."
The festival opens at 10 am with the first band, Chamomile & Whiskey playing at 12 noon on the Main Stage. At 1:15, The Speakeasy Boys, open the Library stage. "We do two stages to eliminate any down time between band set ups" says Keel. "Traditionally there is a thirty minute lull at most music festivals between bands." Check out the band schedule here.
The festival has a food gallery as well as the air-conditioned restaurants where one can take a break and enjoy local fare. Enjoy Almost Heaven Taters to Asian Fusion to Pork BBQ Stone and Shipley. This year a new food vendor is Bayou Billy Old Fashioned Soda.
Then plan to attend the "After Party" at the old Opera House. Live music from 9 - 12 midnight and again free admission. Musicians from the bands are invited to pop in and sit in on a session. It doesn't get any better if one is looking for a music experience
A free event with free Parking and Shuttle, the Shepherdstown Street Fest is a 'Yes' on one's bucket list for visiting the Blue Ridge Mountains of the Shenandoah Valley. Make a weekend trip out of it. Ask for the "Shepherdstown Street Fest" rate from participating lodging partners.
Go BRT recommends the Bavarian Inn and Hillbrook Inn & Spa for more exquisite getaways. The Bavarian Inn is the definition of a romantic country stay that offers European elegance and world class service from its scenic location, overlooking the Potomac River. The Hillbrook Inn & Spa evokes a warm, relaxing and inviting atmosphere for the guests to enjoy. The new Redbook Restaurant at the Hillbrook gives guest delicious luxury food at an affordable price! Both bed and breakfasts offer modern amenities and unique fun for the whole family.
Plan a weekend with the festival on Saturday and a day of hiking and adventures on the river on Sunday.
About GoBlueRidgeTravel.com
Launched in December 2011, Go Blue Ridge Travel (GoBRT) is an e-commerce marketing company using digital internet channels to both create a travel ecosystem community for the northern Piedmont and Shenandoah Valley of VA, WV, and MD. In 2014, the Kids Trail was launched to promote multi-generational family travel and has received three grants from Virginia Tourism. In 2016, Taste of Blue Ridge, a foodie escape experience supporting local resourcing in the valley.
Founded and owned by Nancy Craun who grew up in the area and has 30 years of experience in the event planning, restaurant, hotel, and marketing arenas. GoBRT covers 160 plus mile radius of the Interstate 81 Corridor spanning the states of Virginia, West Virginia, and Maryland.
Contact: Nancy Craun Founder and Owner GoBlueRidgeTravel.com and ShenandoahValleyKidsTrail.com Phone: 540.533.1853 Email: info(at)GoBlueRidgeTravel(dot)com