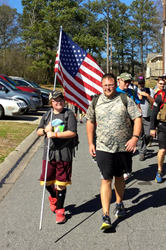 Atlanta, Georgia (PRWEB) March 24, 2016
On March 26, 2016, Shepherd's Men will begin a run from Boston to Atlanta through 10 cities to benefit the SHARE Military Initiative at Atlanta's Shepherd Center and raise awareness of the suicide epidemic plaguing veterans of the U.S. armed forces. Shepherd's Men is a fundraising group comprised of 14 men who will make the run together, with the Army, Marine Corps and civilian population represented in their numbers. Each member of the group will complete the journey wearing a flak vest with 22 pounds of added weight and running at least 22 kilometers per day. The number 22 is symbolic and represents the average number of suicides that occur among United States veterans each day.
The group raises funds for the SHARE Military Initiative at Shepherd Center in Atlanta, GA, one of the nation's top rehabilitation centers for spinal cord and brain injuries. Many soldiers who see combat suffer repeated neurotraumas that result in Traumatic Brain Injuries (TBI). These physiological injuries are often undiagnosed and contribute to or exacerbate the symptoms of Post-Traumatic Stress Disorder (PTSD). Without treating these injuries first, psychological counseling and other treatments for PTSD are rendered ineffective. The SHARE Military Initiative is a 12-week program that treats both the physiological and psychological effects of TBI and PTSD. It is primarily donor-funded and, to date, no graduate of the program has been lost to suicide.
The Shepherd's Men will begin their 2016 journey in Boston on March 26 and end at Shepherd Center in Atlanta on April 3. Along the way, they will make stops in Newport, RI; New York, NY; Gettysburg, PA; Lynchburg, VA; Knoxville, TN; Nashville, TN; Chattanooga, TN; and Athens, GA. In each city, they will meet with veterans' groups, VFWs, police, firemen and other local organizations to honor those who have fought for our freedom and bring attention to the combat veterans of the recent wars in Iraq and Afghanistan who need treatment.
The public is invited to participate in the last leg, running alongside the Shepherd's Men as they arrive at the Shepherd Center on April 3 at 1:00 p.m. Runners can meet the group at one of two locations: Woodruff Park at noon or Midtown Blue 12:45 p.m. (933 Peachtree Street, Atlanta).
"We plan to raise one million dollars to benefit the SHARE Military Initiative this year," says Travis Ellis, the civilian founder of Shepherd's Men. "The men and women returning from today's conflicts volunteered for our country, for all of us, and they return with battle scars that need our help to heal. Too many are pushed to the margins and take their own lives while the rest of us enjoy the freedom for which these veterans fought. The physical challenge of our run is nothing compared to the challenges faced by our veterans."
The SHARE Military Initiative is a primarily donor-funded program at Shepherd Center and the clients receive these services at no charge to them or their families. SHARE's current annual fundraising need is $1,150,000. Shepherd's Men is generously funded by corporate sponsors HD Supply, Verizon Wireless, Samuel Adams Boston Brewery, SA White Oil Co., Superior Plumbing, Georgia Power, First Landmark Bank, Community and Southern Bank, Cumberland Diamond Exchange and CAL Lighting as well as various Marine Corps League Detachments, American Legion Posts, and other local and national businesses. To become a sponsor, please visit shepherdsmen.com to make your tax-deductible donation today.
The 2016 Shepherd's Men will run the longest distance with their largest group since the group's inception in 2013. Previous runs traveled from Atlanta, GA to Arlington, VA, in 2014 and New York City to Atlanta, GA in 2015. The organization includes graduates of the SHARE Military Initiative as well as active duty military personnel, veterans and one civilian, all of whom who take personal leave to participate in the journey. To learn more about the SHARE Military Initiative, Shepherd's Men or Shepherd Center, see bios of the men making the run, or to make a donation, visit shepherdsmen.com. For media inquiries, please contact Glynda Thor, team PR, at glynda(at)shepherdsmen(dot)com.
ABOUT SHEPHERD'S MEN
Shepherd's Men, founded by Travis Ellis, a civilian and local business leader, and USMC Gunnery Sergeant Troy Campbell, along with active duty Marines from USMC's 4th Reconnaissance Battalion, CO B, raise funds and awareness for SHARE through an annual multi-day run. Their goal is to help their fellow service men and women in need, and to put an end to one tragic and appalling reality—on average, there are 22 veteran suicides each day. No graduate of the SHARE Military Initiative has committed suicide. Inspired by this fact, the Shepherd's Men volunteer their time and effort to raise funds for SHARE to operate and hopefully expand the program to serve more veterans.
In 2014, their first year, Shepherd's Men ran from Shepherd Center in Atlanta to the Marine Corps Memorial in Arlington National Cemetery. Their goal was $50,000 and they raised more than $100,000 for SHARE. In 2015, along with new member Jarrad Turner, a retired U.S. Army medic, and himself a graduate of the SHARE Military Initiative, they ran from the World Trade Center site in New York to Shepherd Center in Atlanta, all while wearing 22 lb. flak vests (representing the 22 veteran suicides each day). Their goal increased to $250,000, and they raised $280,000.
In 2016, Shepherd's Men, joined by new member, U.S. Army veteran and SHARE Graduate James Peterson, will run from Boston to Shepherd Center. Each of them will run 22 kilometers per day wearing 22 lb. flak vests. Their goal is to raise $1 Million for SHARE. Contact Shepherd's men by visiting shepherdsmen.com or calling 404-350-7306, or connect on social media on Twitter and Facebook.
A Soldier's Story
James Peterson served as a forward observer in the Army for four years, being deployed in Iraq from 2004-2005. His job was to call in mortar and artillery strikes to strategic enemy locations, though he spent most of his time as a gunner on a Humvee, defending convoys as they made their way through hostile territory.
He met and married his wife Kateri after his return in 2006, but she soon noticed a rapid deterioration in his physical and mental health over the next few years. "He didn't remember life changing events, like our wedding day or the birth of our children. Over time, he became distant, extremely paranoid and suicidal. He actually left us on several occasions because he said we would be better off without him. I was helpless. I felt like I had lost my husband and my children had lost their father," said Kateri.
James was diagnosed with PTSD by the VA and underwent treatment at multiple VA locations around the country, each time coming home worse than when he had left.
"Looking back, we now know he also had a traumatic brain injury (TBI) that was undiagnosed, and if PTSD and TBI aren't treated together in a holistic way, treatment for PTSD alone can exacerbate the symptoms," said Kateri.
As things became unbearable, Kateri—who had formerly helped run a national non-profit to help combat veterans with PTSD and TBI adjust to life after combat—reached out to her network of 400-600 caregivers online, explained their plight and asked where James could get the help that he so desperately needed. A veteran's wife referred them to the SHARE Military Initiative at Shepherd Center where her husband had received treatment with success.
"We filled out the paperwork, had a phone interview and he was in the SHARE program within 2 weeks. The VA programs that he had previously been enrolled in had a wait list of 8-12 weeks. Suicidal vets can't wait 8-12 weeks for help," said Kateri.
At SHARE, staff members explained the symptoms and treatments of James' specific injuries to him and his family, and began to treat both his PTSD and TBI together through an individualized program designed just for him. Within three weeks, Kateri began noticing positive changes in James.
"There was life in his eyes again," said Kateri. "The James that I married was starting to come through. I saw improvement every day. He looked physically healthier. SHARE gave him his life back—he had to work for it mind you—but they gave it to him."
James admits, he was skeptical at first. "Because of all of the other unsuccessful treatments I had undergone, I wasn't certain that SHARE could help me, but it changed my life. I was hopeless and it gave me hope again. The caregivers at SHARE helped me understand my new "normal" in life and that it was ok not to be perfect. They gave me tools to help me adjust to my new normal and taught me that full recovery is a work in progress. It's something I am still working on, but with their help, I am on my path to recovery every day."
Now James is largely recovered and ready to do what he can to promote awareness of injuries like his and how SHARE can help.
When asked what he would tell someone else who was suffering from the same type injuries, James replied, "If you've gone through other treatment programs like I have and they've failed, you are skeptical just like I was. But you have to try SHARE. From one combat vet to another, just do it. It will change your life."
James is not only a SHARE program graduate, but he is also giving back by being a part of the Shepherd's Men and running from Boston to Atlanta this year to help raise awareness. He began training in July of 2015 and the training itself has contributed to his recovery as it has helped him lose over 100 lbs.
ABOUT THE SHARE MILITARY INITIATIVE AT SHEPHERD CENTER
Shepherd Center's SHARE Military Initiative is a comprehensive continuum of rehabilitative care for U.S. Service members injured in post 9/11 conflicts who suffer from Traumatic Brain Injury (TBI) complicated with Post Traumatic Stress (PTS). SHARE provides the resources and tools to eliminate or reduce the symptoms of these injuries and successfully return our veterans to their homes, families, and communities. SHARE offers a broad continuum of care, specifically tailored to meet the needs of each veteran, including housing, physical, occupational, vocational and speech therapies, life coaching, therapeutic recreation and legal, financial and psychological counseling. The Initiative also provides medical care, pain management and other specialized services.
The SHARE program typically serves eight to 10 clients through a 12-week program. All activities are housed in one centralized location and conducted by the same medical and rehabilitation team, so that all aspects of a client's care work collaboratively, as opposed to the fragmented systems clients have often experienced elsewhere. Finally, graduates are assigned case managers who work with them in their home communities and follow their progress post-discharge to ensure they are meeting their goals and have the resources they need to continue their work to recovery.
The SHARE Military Initiative is a primarily donor-funded program at Shepherd Center and clients receive these services at no charge to them or their families. SHARE's current annual fundraising need is $1,150,000.