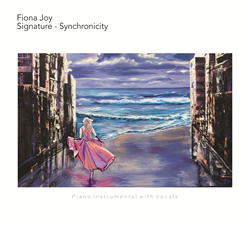 'Once Upon Impossible' is a lament about love that won't work, can't work, even though you want it to, because the other person makes it impossible. Only through a broken relationship can you understand these emotions...
Los Angeles, CA (PRWEB) March 18, 2016
A true music fan enjoys participating in an artist's journey, and with her new album, Fiona Joy embraces her fans, throwing open the doors to her dramatic life through her rich, piano-based instrumental music. Fiona Joy is among the most intriguing and accessible contemporary new age artists of our time, alternating between sharing her life and laughs on social media and pouring every bit of her heart out on the piano keys. Her new album, Signature - Synchronicity, releases today via her independent record label Little Hartley Music, and is available in both physical and digital format at most retailers, including Amazon and iTunes.
Signature - Synchronicity is actually "part two" of the Signature Collection, which began as a true-story concept, and grew into a musical exploration spanning the audiophile, new age, piano and contemporary instrumental markets. The first album in the series is Signature – Solo (Tiny Island Music), including ten songs recorded by Cookie Marenco for an audiophile experience; it became the first solo piano album to reach #1 on the ZMR International Airplay charts since the legendary pianist George Winston.
Fiona Joy says the series began as a very personal exploration of how the deteriorating "signature" bone in her left hand (caused by a degenerative bone disease) could affect her life and music. "Everything I write is conceptually derived. Signature was always about my left hand," Fiona Joy explains, "and the word 'Synchronicity' means the coming together of inner and outer events – signifying the collaborative spirit and magic involved in working as a team, which is what we're sharing on the new album."
Signature – Synchronicity was recorded and produced with the team at Imaginary Road Studios in Vermont (with some recording done at Crash Symphony Productions in Sydney) and many of the pianist's favorite instrumentalists. It was produced at Imaginary Road by new age icon Will Ackerman (who also lends acoustic guitar), Tom Eaton (who also mixed) and also with James Englund; it includes such instrumentation as cello (Eugene Friesen), flugelhorn (Jeff Oster), electric guitar (Marc Shulman), beat-box (Nick Hawkins), percussion (Jeff Haynes), violin (Rebecca Daniel) and Irish whistle and tarogato (Paul Jarman). Also featured is legendary bassist Tony Levin, known for his work with prog-rock pioneers King Crimson and Peter Gabriel. These world class luminaries, Fiona says, gave the project a powerful grounding to explore and experiment with how to present the same music in two completely unique ways.
"I wanted to do a solo version of the songs in a single take, as a live recording, and then show the magic of what you can do in the studio with the same songs," she says. "Same music, two different worlds. I think it's interesting for the audience to hear what difference you can make to a song. Take the song 'Grace,' for example. It has been recorded as a solo, an acoustic vocal, on flute, as chill, and as an Indian/South African version for a GRAMMY-winning album in 2015. Note for note, it's the same song, but a totally different experience in each recording! That fascinates me," she notes.
It's been a full decade since the dreamy sounds of her breakthrough recordings Portrait of a Waterfall and Angel Above My Piano made Fiona Joy a staple on Sky FM Internet Radio. She has racked up over 50 international awards in the meantime, and developed a large following of fans enjoying the New South Wales-based musical visionary's evolution into singer, storyteller and dynamic global sensation.
She is particularly popular in the United States, Canada, and China, where they affectionately refer to her as the "Piano Angel." Excited about returning to tour there in 2016, Fiona Joy says, "I love China, the people, the culture, the food. Children are a large part of my tour – meeting them in schools, holding master classes and having the piano teaching fraternity as a big part of my concerts there. It's an interesting concept to the Chinese audience that New Age music tells stories through the piano and the extra dimension of this interpretation is valuable to children learning the piano."
Thematically, Signature – Synchronicity lends itself to dramatic performances, as reflected in the new Fiona Joy music videos created to support the project. The album combines mystery, magic, musical surrealism and cutting edge technology to fulfill Fiona Joy's brave intellectual approach to what are essentially fairy tale themes. Combining a childhood fantasy with stories of the Little Red Caboose, castles, princesses, stories from well known tales and real life experiences helps paint deep heartfelt images to flesh out the compelling and sweeping instrumental melodies and her beautifully transporting vocalizations.
"It's interesting to grow up through your own music," Fiona Joy says. "The early albums are about my own life, drawing on the past. Mostly this album is looking outside myself and exploring other subjects – in this case, fairy tale themes – and yet somehow they all come back to my own experience. It's a circular thing…truly Synchronicity."
Fiona Joy enjoys discussing favorite tracks from the new collection. The percussive, joyful and lively romp "Invisible Train" is based on her childhood fascination with the story of the Little Red Caboose. On the soaring, free-flowing, cello-enhanced "Fair Not," she casts herself as a princess in a tower as a beautiful dragon is at the bottom guarding her from evildoers. She describes the moody, soulful and hypnotic "Once Upon Impossible" as a lament about love that "won't work, can't work, even though you want it to, because the other person makes it impossible. Only through a broken relationship can you understand these emotions. This is the song that was given to me from this life experience."
Her connection with her fans also brings unexpected gifts and stories of catharsis, some bittersweet. "Grace" - the song that so many artists love to record - comes from a poignant place. "I was feeling low when an email arrived from a woman who, 10 years earlier, had a stillborn baby girl she'd named Grace. She said that listening to my music helped her through that time, and now she sits with her second daughter, six-year old Sophie Grace, listening to my music. The song came through their sharing; I can ask for nothing more than to help people in this way and to have my music stand the test of time."
Looking forward to all the fresh possibilities, travels and creative adventures of the coming year, Fiona Joy – embodies the glorious cover art of Signature – Synchronicity – running wildly into the embrace of her second decade of recording and touring. "I've learned that I have a fantastic team to work with, one I can trust and that makes the journey worthwhile," she says. "I consider my fan base part of that journey. Their support is amazing and puts me in a wonderful place to launch a new album – the album that I believe is my most significant to date."
Music writer Bill Binkelman (Wind and Wire, Retailing Insights) commented positively on the Signature collection, noting "While the solo piano 'entrée' can certainly be enjoyed all by itself, the expert talents and artistic touches applied by the guest artists on Signature Synchronicity enhance the listening experience manifold. Chalk up another tour de force for the talented and gorgeous Aussie pianist, as well as the crew and players at IR Studios."
For more information, please contact the appropriate party below:
Public Relations & Interviews: Beth Hilton: bethhilton(at)thebcompany(dot)com
Radio airplay: Ed & Stacey Bonk at LAZZpromotions(at)Rogers(dot)com
General information & licensing: orders(at)littlehartleymusic(dot)com.au
Distribution: CPI Distribution, claypinc(at)cs(dot)com, or 440-333-2208
Artist Links:
Official Website http://www.fionajoy.com
YouTube http://www.youtube.com/fionajoy
Facebook http://www.facebook.com/fionajoymusic
Twitter http://www.twitter.com/fionajoymusic
Instagram https://www.instagram.com/fionajoymusic/