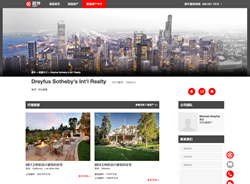 Hosting on both sides of the Great Firewall exposes Silicon Valley real estate to affluent Chinese buyers.
Menlo Park, California (PRWEB) September 15, 2016
Dreyfus Sotheby's International Realty has announced a new alliance with Juwai.com that will enable the Silicon Valley real estate brand to reach even more affluent Chinese buyers. Juwai.com is one of the world's most prominent real estate websites with over two million monthly visitors. As a truly international brand, Sotheby's International Realty now has the most global representation on Juwai.com, displaying luxury listings from 65 countries and territories.
With host servers sitting behind the so-called "Great Firewall," Juwai.com avoids the problems that externally hosted sites experience with blocking and long page load times. "One of Juwai.com's key advantages is that it is hosted on both sides of China's internet firewall, so its listings are visible online both within China and outside of China," notes Wendy Purvey, chief marketing officer for Sotheby's International Realty Affiliates.
Michael Dreyfus, broker owner and CEO of Dreyfus Sotheby's International Realty, is excited about the new program. "We've listed properties on Juwai.com in the past," he says. "This new alliance puts more of our listings in front of Juwai.com's audience of high net worth Chinese international property buyers."
Chinese Real Estate Buyers
China is already the second-largest source of visits to sothebysrealty.com, trailing only the United States, and accounts for one out of every 10 visitors. Chinese investors favor real estate as an asset class. Chinese purchasers acquired at least US$350 billion of U.S. real estate between 2010 and 2015[i]. 69 percent of Chinese purchase on an all-cash basis[ii]. Between 2009 and 2015, Chinese buyers went from accounting for 10 percent to 28 percent of all foreign residential real estate acquisitions in the U.S.[iii]
Looking forward, Chinese buyers are expected to continue purchasing international real estate at a significant rate. The best estimate is that they will spend at least US$218 billion on existing U.S. real estate between 2016 and 2020 – with investments in the rest of the world on a similar scale[iv].
Details of the Alliance
The Sotheby's International Realty brand alliance with Juwai.com includes the following components:

Listing display: Sotheby's International Realty property listings will appear on Juwai.com and in its real estate search results.
First responders: Juwai.com's Chinese-language team, located in mainland China, allows them to respond to consumer inquiries in real time, translate inquiries into English and forward them to the Sotheby's International Realty sales associate who has the listing.
Brand page: A Sotheby's International Realty brand overview page carries information about the brand, a contact form and the network's listings – all in one place.
Banner advertising: Sotheby's International Realty banner ads will run on the Juwai.com homepage, promoting the company's brand page and listings to Juwai.com's audience.
###
About Dreyfus Sotheby's International Realty (dreyfussir.com) – Dreyfus Sotheby's International Realty is a leading real estate brokerage specializing in sales and purchases of homes in the mid-Peninsula/Silicon Valley area. The brokerage offers exclusive Sotheby's International Realty® marketing, advertising and referral services designed to attract well-qualified buyers to the firm's property listings. Property listings are marketed on the sothebysrealty.com global website, as well as on the firm's local website, dreyfussir.com.
The Sotheby's International Realty network currently has more than 19,000 affiliated independent sales associates located in approximately 850 offices in 65 countries and territories worldwide. Each office is independently owned and operated.