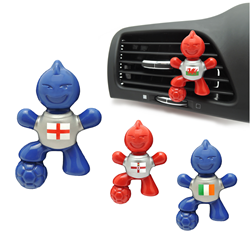 "I love having Soccer Joe in my van. Every time I look at him, he makes me smile and the fragrance is great too!" Paul, delivery driver, Manchester
Altrincham, Manchester (PRWEB UK) 3 June 2016
Euro 2016 is finally here, and to celebrate, Scents™ car air fresheners has introduced Soccer Joe. The Soccer Joe car air freshener is a fun way to root for a chosen UK team for Euro 2016. Easy to use, just clip to the car vent and Soccer Joe will release a 'New Car' fragrance, lasting for up to 45 days.
Soccer Joe is a fun and appealing character with a cheeky smile, it will be sure to trigger a smile from all that travel alongside. Paul, a delivery driver in Manchester has expressed a fondness for Soccer Joe, "I love Soccer Joe, every time I look at him he makes me smile and the fragrance is great too."
Soccer Joe is available in 4 variants with a flag corresponding to each country playing in the tournament from the UK on its T-shirt. Each variant is available from the country that Soccer Joe represents:

Blue Soccer Joe – England
Blue Soccer Joe – Republic of Ireland
Red Soccer Joe – Wales
Red Soccer Joe – Northern Ireland
What better way to show support of a UK Euro 2016 team this summer than to have a Soccer Joe on the car vent. Once the Championship is over, Soccer Joe can also be kept in a gym bag where fragrance will continue to be released for up to 3 months.
Soccer Joe has joined Little Joe® at Halfords, and is soon to be followed by Little Joya® in June 2016. In total, this range of air fresheners comprises 11 fragrances in 15 styles.
Little Joe is also available from selected Tesco stores and Soccer Joe from selected Asda Stores. For more details on the available Scents™ car air freshener products, visit http://www.facebook.com/ScentsProducts.
Scents™ air fresheners were launched back in 1972 as MEDO air fresheners. Over the years the range has developed in line with trends and technologies. Scents™ and Kraco Car Care International are well-positioned to compete aggressively in the marketplace. The company's strategy is to build brand awareness, loyalty and repeat business by being the leader in offering quality, innovation, creative and functional products to consumers who want to express their individuality and style in what they drive. Scents® and Kraco® products are produced for, marketed and sold by Kraco Car Care International Ltd.