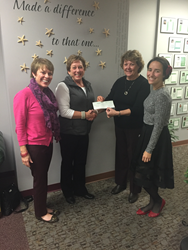 Nashville, Tenn (PRWEB) March 09, 2016
As part of International Scholarship and Tuition Services, Inc.'s annual Starfish Campaign, four non-profit organizations recently received a donation from the Nashville-based scholarship management company.
Moved by a popular story of a young boy and his attempt to save hundreds of starfish stranded on a beach, ISTS President and CEO Becky Sharpe founded the Starfish Campaign in 2010. Each winter, ISTS team members collaborate to nominate and select causes to support, often with special significance to one or more employees and their families.
ISTS is proud to support the following charitable organizations as part of the 2016 Starfish campaign:
Centerstone – Centerstone is a leading provider of community-based behavioral healthcare in Illinois, Indiana, Kentucky and Tennessee that seeks to prevent and cure mental illness and addiction.
Project Connect Nashville - Project Connect Nashville is a Christian organization that exists to assist and connect with homeless and other at-risk individuals through a variety of services and support, including meals, community garden projects, counseling and education.
STOMP Out Bullying – STOMP Out Bullying is a national anti-bullying organization that focuses on reducing and preventing the various forms of bullying as well as decreasing school absenteeism and deterring violence in schools and online.
Wilson County Court Appointed Special Advocates (CASA) – CASA provides trained and caring volunteers who serve as advocates for abused and neglected children in court.
The PENCIL Foundation, Homework Hotline, Renewal House and Nashville Dolphins received donations in 2015.
About International Scholarship and Tuition Services, Inc. (ISTS)
Founded in 1985, International Scholarship and Tuition Services, Inc. provides comprehensive scholarship, grant, tuition assistance and tuition reimbursement program management. ISTS is a 100% women-owned company, focused on offering cutting-edge technology and sustainable solutions to corporations, foundations, associations, unions and other scholarship-granting organizations worldwide. For more information about ISTS, visit http://www.applyISTS.com.