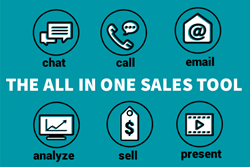 Our customers love the ability to start with high scale email campaigns and then seamlessly transition to instant messaging, calling or live presentation depending on the needs of the situation.
Bellevue, WA (PRWEB) February 05, 2016
Tellwise, the buyer / seller collaboration solution, this month introduced voice integration with their Smart Message technology. The Smart Dialer allows calling recipients of an email with one click from Outlook, Gmail or Salesforce within the context of the email message. The result is an ability to communicate more effectively between buyers and sellers and ultimately drive more sales and customer satisfaction.
Tellwise Smart Messages create a live collaboration environment behind every email that is sent using Tellwise technology. The collaboration environment is unique to every message and group of recipients. A Smart Message is capable of instant messaging, online presentations, analytics and now voice calls without requiring any additional software. The new Smart Dialer not only allows voice calls within the context of a message but allows sales teams to effectively call all of their customers in an email campaign for example.
As the communication happens on the Tellwise platform, advanced analytics track buyer behavior to inform the seller about their interest and to allow the seller to be more responsive to buyer needs. All of this happens invisibly within the communication channel and relevant information can even be synchronized to a CRM system like Salesforce.com. This approach produces more and better data for sales management at little or no effort from sales reps working with customers.
Smart messages change what is possible with email to create a more effective and enjoyable communication process. Some examples include:
Know when your customers are reading your messages and join them online. Smart Messages inform the sending when their recipients are online and allow the parties to seamlessly start instant messaging.
Transition from instant messaging to a phone call in one click. If the conversation can be more efficient over the phone, Tellwise now allows one click dialing to connect the recipients and start a voice call.
Add a live online presentation in one click. If a live presentation of content is required or helpful, again Tellwise allows converting the smart messaging into a live presentation sharing capability where the sender can control the slide presentation seen by the other recipients. No additional software required.
Powerful tracking and analytics tell you what's going on. Sellers need to know what content and messaging is resonating with their customers and Tellwise surfaces this information in detailed reports and graphs.
"Today's buyer is extremely busy and efficiency is not only important but highly valued. Tellwise has worked hard to create the most innovative and efficient cross company communication channel by upgrading the email experience.", said Conrad Bayer, CEO of Tellwise. "Our customers love the ability to start with high scale email campaigns and then seamlessly transition to instant messaging, calling or live presentation depending on the needs of the situation."
Tellwise with Smart Messages is available now and is delivered as a software-as-a-service (SaaS). Starter packages begin at $49 per user per month. Contact Tellwise at sales@tellwise.com for a free 14-day subscription.
Supporting Resources
Tellwise website (https://tellwise.com/)
Tellwise blog (https://tellwise.com/blog)
About Tellwise
Tellwise is a buyer / seller collaboration solution that helps organizations create a more personalized and engaging sales process with prospect behavior mapping and focused content that puts sales reps in control of their own campaigns. Founded in 2012, Tellwise is backed by venture capital firms including Ignition Partners and Trilogy Partners. For more information, visit https://tellwise.com.