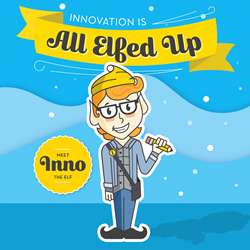 If there's one thing all of us in the product development and creative fields know, it's that Innovation is All Elfed Up. It's hard. It's not pretty.
Atlanta, Georgia (PRWEB) December 19, 2016
Design and Innovation Strategy firm THRIVE (thrivethinking.com) today announced a festive solution for 2016's innovation blues — The Innovation Elf.
Bringing something new into the world is hard. It isn't pretty. It happens in the strangest of ways and is inspired and influenced—for good or bad by the most unpredictable of forces.
THRIVE knows, it's the path we tread each and every day as a world-class, globally focused innovation design firm. So this festive season inspiration struck, and a lighthearted way of dispelling those innovation blues and creating a counterpoint of inspiration for 2017 was created. How? With cartoony cut-outs, of course.
Meet Inno the Elf —the mischievous, festive mascot for celebrating the most elusive of business endeavors: Innovation. Download Inno and release him from his frozen tundra and display him wherever you find innovation (or alongside something you think is innovative). Then snap a photo and upload on Instagram or Facebook using #theinnovationelf.
Check out all the elfed up contributions at theinnovationelf.com.
About THRIVE:
THRIVE (thrivethinking.com) is a product development and innovation strategy firm who helps ambitious leaders grow profitable brands through informed design. We are an experienced group of researchers, strategists, and designers based in Atlanta, Georgia. We work at the intersection of design, the social sciences, and business to help companies create new value. Our expertise in reinventing categories, connecting insights to business, developing new products, and translating brands into tangible experiences, has helped leading companies to THRIVE.