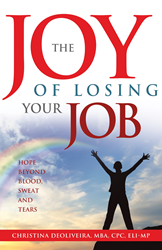 Sometimes, the bad things that happen in our lives put us directly on the path to the best things that will ever happen to us. —Nicole Reed
West Orange, NJ (PRWEB) April 19, 2016
In The JOY of Losing Your Job, HOPE Beyond Blood, Sweat and Tears (published by Coche Press), author Christina DeOliveira brings touching, inspirational and uplifting stories of some special people who toughed out their terminations and pursued the life dreams that up until then had been beyond their reach.
Through their moving first person accounts, discover how each of them transformed their life, discovered their true purpose and came to realize that being "let go" allowed them to let go of a stifling lifestyle that prevented the development of their full potential. More importantly, their stories provide eye-opening life lessons learned the hard way while struggling to regain their professional footing.
The JOY of Losing Your Job also provides access to a wide array of resources for those going through a difficult career transition, including Virtual Learning programs, the author's favorite affirmations, useful books, and recommended support organizations and networks as well as a series of career questions that can help readers hone in on what they really want out of their professional life.
Losing a job doesn't have to be the end of the world. Instead, it can signal the beginning of an exciting new life journey, a journey that can bring happiness, fulfillment and a real sense of purpose in its wake. Everyone can appreciate The JOY of Losing Your Job and find HOPE Beyond Blood, Sweat and Tears because its pages offer timeless and transformative wisdom to anyone who's ready to make miraculous change in their life.
DONATION
All proceeds from the sale of this book are being donated to: David's Gift Scholarship Foundation. David's Gift Scholarship Foundation was founded in February, 2015, in memory of beloved coach, teacher, husband, son and brother, David DeOliveira who tragically succumbed to brain cancer in 2011. It is an academic foundation dedicated to helping deserving high school seniors with financial needs from East Side High School in Newark, New Jersey, by providing them with scholarships to continue their educations beyond high school. The intention is to help these deserving scholars achieve their career goals, an objective with the added benefit of bettering the community at large. For information, go to: http://www.davids-gift.org
"The JOY of Losing Your Job, HOPE Beyond Blood, Sweat and Tears"
By Christina DeOliveira
Softcover | 5.5 x 8.5in | 174 pages | ISBN: 978-0-9971325-0-2
E-Book | 174 pages | ISBN: 978-0-9971325-0-2
Available at Amazon and Barnes & Noble
ABOUT THE AUTHOR
After 24 years of working at the same financial services corporation, Christina DeOliveira came into work one morning only to discover her position was being eliminated due to budget cuts. Coming on the heels of a traumatic and heartbreaking family tragedy, Christina struggled to find her equilibrium - until she finally found the courage to confront her future and find a rich new professional life she never dreamed was possible. Thus came the inspiration to write The JOY of Losing Your Job, in which Christina shares not only her own inspiring story, but those of others who experienced the same mid-life renaissance after first being brutally terminated by a longtime employer.
In addition to authoring The JOY of Losing Your Job, Christina DeOliveira is CEO and Principal Consultant of Performance Continuum, a successful strategic management consultancy with expertise in human capital management, leadership development, creating high performance cultures, team alignment and engagement, leadership coaching, and service excellence.
She is also the founder and President of David's Gift, a scholarship foundation dedicated to memorializing the life of her beloved brother, David, and to which proceeds from the sale of this book are donated.
For more information on Christina, her work, and the book, go to: http://www.performancecontinuum.com