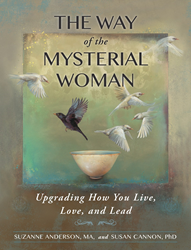 The Second Feminine Epoch has begun.
Seattle, WA (PRWEB) April 07, 2016
Two pioneers in women's leadership may have sparked a new movement by exploring a current trend in women's development. Using archetypes and transformational psychology, authors Suzanne Anderson, MA and Susan Cannon, PhD take women through a Mysterial sequence of initiation and activation in their new book The Way of the Mysterial Woman: Upgrading How You Live, Love, and Lead. Based on 15 years of running their university certificate women's leadership program, the book introduces us to a new level of women's wisdom, love and power.
What does Mysterial mean?
The term Mysterial is a combination of mystery and medial, two key abilities of an authentic, fully present, integral woman. By mystery, the authors mean the unknown, the ambiguous reality of these uncertain times. By medial they mean a woman who is able to hold a middle ground in complex situations, bridging the self and others, conscious and unconscious, masculine and feminine.
Who are the Mysterial Women?
Mysterials are characterized as women who have upgraded their 'inner operating systems' and have the consciousness and capacity to meet the challenges of these times in all aspects of their lives. A Mysterial woman, for example, will make time with a struggling friend even as she puts forth a policy that could change the way health care is funded.
A Mysterial is grounded and confident while willing to be vulnerable and open. She knows that she is enough and is empowered to do what is hers to do. She stands in her own true authority and freely expresses her unique nature, welcoming ambiguity and change as necessary aspects of the creative process. She has a desire to make a difference, is self-aware, and is relaxed in her approach to life.
Examples of emerging Mysterial women include Aung San Suu Kyi, Michelle Obama, Elisabet Sahtouris, Elza Maalouf, Scilla Elworthy, Jean Shinoda Bolen, Marion Woodman, Mona Lisa Schultz, Byron Katie, Brene Brown, Cheryl Strayed, and Marianne Williamson.
What is The Way of the Mysterial Woman?
According to the book, a Mysterial way is "a wise, loving, and powerful way of being that arises when our unique Yin and Yang essences are moving freely through body, heart and mind in a creative partnership with the mystery of life."
What does The Way of the Mysterial Woman call women to do?
The book is an invitation to awaken to a fresh and inspiring promise for womanhood today, and to grow into that promise step by liberating step. It is an invitation to consciously join with like-minded others, and to participate in the earliest stirrings of something profound and historically significant.
It asks us to imagine a future that is radically different from previous models of women's wholeness. Exercises include exploring one's signature emotions, clearing clutter, creating an altar, practicing open heartedness, writing morning pages, and being with the mystery.
Visit http://www.thewayofthemysterialwoman.com for more information on the book.
Purchase is available through Amazon. Publisher is She Writes Press.