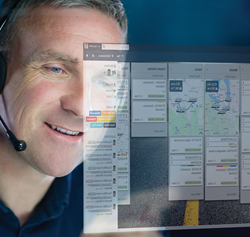 There is nothing like VIA® in the market today.
Perrysburg, Ohio (PRWEB) April 08, 2016
VIA® Visual Transportation Manager™ is a patent pending, web-based, freight planning and tracking technology that collects data from multiple sources and organizes it in a graphic interface enabling real-time collaboration within a unified environment.
"VIA® is visual," states Toby Miller, Tranztec's CEO. "The major advantage VIA® provides freight planners, is unified access to all the information needed to plan, route and manage freight most efficiently."
"The real-time nature of VIA® allows for simultaneous collaboration among shippers, 3PLs, brokers, carriers and operators. There is nothing like it in the industry today," explained Miller.
Utilizing visuals known as "cards," VIA® simplifies transportation management by displaying real-time data such as driver availability, stops, ETA, routing, rates, status, confirmation, settlement and other options that can be customized by the user. Cards can be dragged and dropped to user-defined lists to quickly create tentative route and "what-if" scenarios.
The VIA® Visual Transportation Manager™ fully integrates with transportation management systems, load boards, EDI platforms and other sources of data. VIA® works seamlessly with most mobile-comm systems as well as VIA® Mobile – Tranztec's mobile communications platform that allows 3PLs & brokers to track and manage loads using any mobile device.
Tranztec will provide live demonstrations of VIA® Visual Transportation Manager™ to attendees of the TIA Conference & Expo booth# 109 during Expo hours. Others requesting a demonstration should visit the VIA® Visual Transportation Manager™ website.
About Tranztec Solutions, Inc.
Tranztec Solutions is a leading developer of transportation and logistics applications and integrated software solutions. Founded in 2001, Tranztec has expanded to 3 locations and provides transportation focused solutions and consulting services to clients throughout North America.
VIA is a registered trademark and VTM, Visual Transportation Management, and Visual Transportation Manager are trademarks of Tranztec Solutions, Inc.
For further information, contact:
James King
Vice President of Product Management
jking(at)tranztec(dot)com
http://www.tranztec.com
888.854.0099