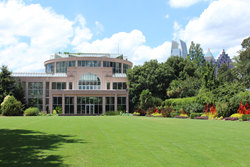 [TifTuf]'s rooted in quickly, looked healthy from virtually the day it went down and has been easy to maintain.
ATLANTA, Ga. (PRWEB) October 19, 2016
During Summer 2016, the Atlanta Botanical Garden's Great Lawn received a makeover with drought- and traffic-tolerant TifTuf Bermuda grass.
As the entryway to the Dorothy Chapman Fuqua Conservatory, the Great Lawn hosts numerous events in the garden throughout the year. From summer concerts in the garden to September's Garden of Eden Ball, the lawn endures foot traffic and damage for several months.
"The existing lawn had sustained years of events and no longer looked the way we wanted it to," said Amanda Bennett, manager of display gardens at Atlanta Botanical Garden.
Super-Sod of Atlanta replaced the TifSport Bermuda grass on the old lawn with TifTuf Bermuda grass during May 2016. Since installation, the TifTuf grass on the Great Lawn has weathered the heat and traffic of a summer in the garden.
"The rebound time with TifTuf seems to be a bit quicker. It has also been easier for water management, even in this hot summer," Bennett said.
Since 1992, the University of Georgia has been conducting tests on TifTuf with the research name "DT-1." UGA's research found that TifTuf used 38 percent less water than the standard Tifway 419 Bermuda grass. Traffic tolerance research found that TifTuf maintained its visual appeal better than Celebration and Tifway Bermuda grasses after 10 weeks of intensive traffic tests.
"I'm impressed so far," Bennett said. "[TifTuf]'s rooted in quickly, looked healthy from virtually the day it went down and has been easy to maintain."
Visitors can view TifTuf and the Great Lawn alongside colorful glass sculptures by Dale Chihuly in the garden's current exhibit "Chihuly in the Garden."
The mission of the Atlanta Botanical Garden is to develop and maintain plant collections for display, education, research, conservation and enjoyment. The Garden is located at 1345 Piedmont Ave. NE in Midtown, between 14th Street and Monroe Drive. The Garden is open from 9 a.m.-7 p.m. Tuesdays through Sunday. Admission is $21.95 adults, $15.95 children 3-12, free to children under 3 and Garden members. For more information visit atlantabg.com or phone 404-876-5859.   
Super-Sod, a subsidiary of Patten Seed Company, is a family-run business that employs experts in turf and horticulture. Super-Sod continuously develops new garden products; fosters gardening and landscaping; and seeks improvement in farming practices, technology, environmental stewardship and employee knowledge. Visit Supersod.com to learn more about the company and to sign up for their Monthly Lawn Tips eNewsletter.