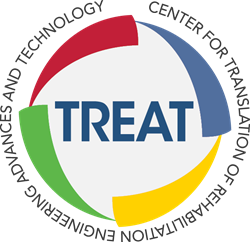 The TREAT team comes from a broad range of backgrounds but we're driven by a common passion to see needed new rehabilitation and assistive technologies get to the market where they can make a difference in society - Solomon Diamond, PhD
Lebanon, NH (PRWEB) February 03, 2016
Say that you have an idea for a product that would not only help someone regain independence after an injury, but do it faster and better. What is the next step? How do you build it? How will it be sold? What are the future challenges or barriers that may derail a seemingly clear pathway to the marketplace? Between technical and business development, navigating intellectual property, regulatory, and reimbursement requirements, and developing strategies to verify that the technology works as intended, some of these hurdles can be incredibly overwhelming to overcome. Ideas with great potential may be left in the mind of the inventor or on a laboratory shelf, never getting into the hands of the people who would truly benefit from them the most – individuals with injuries or disabilities, clinicians, and educators. Established in 2010, The Center for Translation of Rehabilitation Engineering Advances and Technology (TREAT) provides education, consultation, and direct assistance to innovators seeking to bring their novel technology solutions to the marketplace.
TREAT was recently awarded five years of additional funding from the National Institutes of Health (NIH). The $6.2M award will support the continuation and expansion of the center's multiple programs and services. TREAT was the recipient in 2010 of initial funding from the NIH to create program infrastructure and deliver technology translation assistance. Since then, the center has worked with hundreds of innovators from a variety of backgrounds including rehabilitation researchers, clinicians and bioengineers. "In my 30 years in clinical research, working with TREAT was by far the best experience I have had in completing a grant. TREAT was able to cut through the red tape of clinical research and guide me through the research process in an efficient, professional manner", said Pat Andres, a Senior Research Scientist at Massachusetts General Hospital.
"During the first 5 years of TREAT, we examined the commercialization process within rehabilitation from a variety of perspectives and worked with a broad range of clients facing a wide array of different challenges. Through this experience we have been able to model the process, identify common missteps along the way, and develop a suite of assistance tools along the continuum of commercialization experience and expertise," says Jon Lurie, MD, MS, Co-Director of TREAT and Associate Professor of Medicine, Orthopaedics, and of The Dartmouth Institute for Health Policy and Clinical Practice. In addition to The Dartmouth Institute, TREAT member organizations include Thayer School of Engineering at Dartmouth, Boston University's School of Public Health, and Simbex – a leader in developing human solutions.
"The TREAT team comes from a broad range of backgrounds but we're driven by a common passion to see needed new rehabilitation and assistive technologies get to the market where they can make a difference in society," says Solomon Diamond, PhD, Associate Professor at the Thayer School of Engineering at Dartmouth College. TREAT educational programs include self-guided instructional tools, such as the TREAT Technology and Market Assessment and online lecture series from Dartmouth College. Additionally, TREAT offers commercialization services and seed funding through a competitive Pilot Project grant program. For individuals seeking an onsite opportunity to work with TREAT partners, the center offers sabbatical, internship, and fellowship opportunities.
The launch of TREAT's new website and educational platform marks a strong start for the next phase of the center. "One key goal for TREAT moving forward is to stimulate additional interest in our platform in the medical investment community as part of our plan to sustain TREAT long-term and beyond full government funding," says Rick Greenwald, PhD, Co-Director of TREAT and President of Simbex. "We are confident that there is interest in novel paradigms for technology commercialization, and we will present TREAT's economic model for stimulating growth in this area for rehabilitation and assistive technologies."
TREAT is now accepting proposals for Pilot Project grants to support development and commercialization of novel rehabilitation and assistive technology ideas. Additional details on the application process and eligibility can be found by visiting the TREAT website. Those interested must first register on-line and submit abstracts by February 22, 2016. Following abstract review, full proposals will be selected by invitation only through March 7, 2016. In addition to funding opportunities, individuals who are interested in sabbatical, internship, or fellowship programs are encouraged to reach out to Chris Maeder, TREAT Program Manager.
---------------
About the Center for the Translation of Rehabilitation Engineering Advances and Technology (TREAT)
TREAT is a multidisciplinary, multi-institutional, collaborative consortium between corporate, educational and non-profit entities that provides education, expert consultation, and direct assistance to accelerate commercialization of rehabilitation and assistive technologies. The center is part of the National Institutes of Health (NIH) Medical Rehabilitation Research Infrastructure Network (MRRIN). Funding is provided by the National Center for Medical Rehabilitation Research (NCMRR) in the Eunice Kennedy Shriver National Institute of Child Health & Human Development (NICHD) through awards R24HD065703 and P2CHD086841. For more information, please visit http://treatcenter.org.
About Simbex
Simbex is a product development company focused on engineering human solutions. The company brings to market innovations / medical devices that can change the beliefs of what is feasible in human performance, disease prevention/management, and rehabilitation. Understanding all aspects of a product ecosystem is a standard part of Simbex's product development process that helps identify new products, maximize opportunities, and avoid potential cliffs. This holistic approach helps traverse the path from "What If...." to "Wow!". Simbex is an award winning company whose products and services have been recognized by: Time Magazine's Best Inventions of the Year, Edison Awards, Inc 5000, Sybase Innovation Award, Computerworlds Honor Program Award Finalist, and US Small Business Tibbetts Award. To learn more, visit the Simbex website at http://www.simbex.com.
About Boston University School of Public Health
Since 1976, Boston University's School of Public Health (SPH) has been growing, innovating, discovering, and launching the careers of some of the most accomplished and influential women and men in the field. Today they stand among a select group of public health graduate schools. U.S. News & World Report ranks SPH 10th in the nation. For further information about Boston University's School of Public Health, visit the BU website at http://www.bu.edu/sph/about/
About The Dartmouth Institute for Health Policy and Clinical Practice
The Dartmouth Institute for Health Policy and Clinical Practice is a dynamic force within Dartmouth College, dedicated to improving health care through education, research, policy reform, leadership improvement, and communication with patients and the public. For further information, visit http://tdi.dartmouth.edu.
About Thayer School of Engineering at Dartmouth
Dartmouth's Thayer School is one of the country's oldest professional schools of engineering and offers both undergraduate and graduate programs within a single unified Department of Engineering Sciences. Teaching and research is advancing innovation in three focus areas: engineering in medicine; energy technologies; and complex systems. These areas crosscut traditional engineering disciplines and address critical human needs. For more information, visit the Thayer School Web site at http://engineering.dartmouth.edu.