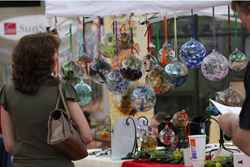 One of the region's most popular events of the season, the 6th Annual Tulip Festival & Mother's Day Celebration at Honor's Haven Resort & Spa will kick off at 11AM.
Ellenville, New York (PRWEB) April 25, 2016
Here are seven fantastic reasons why taking your mother to the Honor's Haven Resort & Spa Tulip Festival & Mother's Day Celebration is a great idea:
It's an All Day Celebration
Why take mom out just for lunch when you can devote a whole day to her. The Annual Tulip Festival & Mother's Day Celebration can be enjoyed from 11:00 am – 4:00 pm on Mother's Day; Sunday, May 8th, and admission to this community festival is FREE.
A Free Yoga Class
Just one hour before the festivities kick off, the resort's wellness center will be providing a free yoga class. Open to all ages and levels of practice, the class will guide participants through gentle stretching, relaxation and mind/body exercises to wake up your body and brighten your spirits.
Unique Guests
Vendors from near and far will be showcasing their products and services. From essential oils and skincare products to handmade jewelry and forest inspired furniture, mom will have a blast browsing for that perfect keepsake or must-have item.
Live Entertainment
This year's festival will include a centrally located bandstand right in front of the hotel, providing festival goers with non-stop entertainment all day long. This year's lineup includes:
The Jon Bates Band
An amazingly authentic, soulful, and fun party band with an unparalleled reputation for infusing energy and making folks feel REALLY good! Song list includes favorites from The Temptations, The Beatles, Rascal Flatts, Lady Gaga, Van Morrison, The Dave Matthews Band, Bryan Adams, The Police, U2, Elvis Presley, Norah Jones, and MORE!
Illusionist David Garrity
This one-man illusion show combines visual magic and illusions combined with music, pantomime, situation comedy, and audience participation – entertaining audiences of all ages!
Kyle Hancharick
Hailed as a truly gifted performer and a promising songwriter and storyteller, Kyle Hancharick was raised on the music of prominent singer-songwriters of the 60s and 70s, such as Bob Dylan, Bruce Springsteen, James Taylor, and Jackson Browne.
Photo Contest
If you're an avid photographer and love snapping off photos of wildlife, nature, flowers or people, download an entry form for this year's Tulip Festival photo contest! Participants can enter up to two entries for their shot at winning a weekend stay at the resort or a souvenir from the Honor's Haven Gift Shop.
Membership Discounts
Throughout the day both the Spa at Honor's Haven Resort and the EarthMind Wellness Center will be offering a 20% discount on memberships.
Mother's Day Lunch
Spoil Mom even more by taking a break from the festivities and enjoying a special Mother's Day lunch in Honor's Haven Resort & Spa's Gaia Hall, featuring picturesque views of the resort's world class golf course, sparkling lake, and famous Shawangunk Mountains. Due to an overwhelming turnout at last year's event this buffet style lunch, featuring a mouthwatering compilation of American Fusion cuisine, will be offered in two seatings; 11:30 am – 1:00 pm and 2:00 pm – 3:30 pm. But don't wait to make your reservations. The resort expects both seating to sell out quickly.
For complete menu selections and pricing, please visit the resort's website.