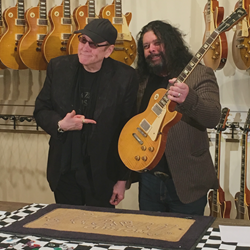 "I got this [1959 Les Paul] in Canada, From Ed McDonald. I've had this baby for a long time. He owned Tundra Music. Hits the right angle, the grain is amazing" -Rick Nielsen
Chicago, Illinois (PRWEB) April 19, 2016
For the first time since 1980, Rick Nielsen, the guitarist of Cheap Trick, and Ed McDonald of Tundra Music reunite. They are together to celebrate Gibson Custom releasing replicas of a guitar Ed sold Rick. This important guitar is a 1959 Gibson Les Paul Standard. Ed McDonald has been finding guitars for stars and collectors all over the world for over four decades, and this encounter reflects his dedication to Vintage Guitars.
On a hot Saturday evening in London, Ontario, Canada; Cheap Trick were getting ready to deliver their original brand of rock to an over flowing crowd. Ed McDonald of Tundra Music Vintage Guitars was backstage preparing to show Rick Nielsen the Holy Grail of Gibson Vintage guitars. A 1959 Gibson Les Paul Standard.
"Rick was really excited to open the case and see the guitar. I could tell he was running his inventory through his mind so he could make the right offer to work out a good trade. Rick knew what he was looking at in a matter of seconds." Ed recalls.
This Gibson Les Paul Standard was not just any 1959 guitar, it was one of the finest examples, and would be used to record the signature solos on some of Cheap Trick's biggest hits recorded from that day forward. The guitar was not the only thing Rick was excited about though. He had really big news to share with Ed, a secret that had to be kept for two weeks. The following Tuesday Rick and the band were going to be in the studio in NYC with John Lennon. That would also be the first studio gig for the 1959 Gibson Les Paul Standard acquired from Ed and Tundra Music Vintage Guitars.
Fast forward 36 years, Rick Nielsen and the original 1959 Gibson Les Paul Standard # 9 0655 Reunite with Ed McDonald and Tundra Music. Ed and Rick attended Gibson Custom's launch of a replica of the very guitar he traded to Rick Nielsen. The Gibson Guitar company crafted an incredible clone of the original Holy Grail, even the vintage looking case. Rick Nielsen signed 50 aged versions of these Gibson Les Paul Standards in Chicago at Chicago Music Exchange in person close to Rick's home town Rockford, Illinois.
Tundra Music Vintage Guitars loved the Gibson Custom replicas so much they will be buying and selling them to their customers, collectors and players around the world. Rick Nielsen's experience with the original Les Paul Standards, was invaluable in overseeing the birth of the clones made by Gibson Custom, we know it will be a guaranteed hit.
http://www.tundramusic.com
905-493-5000