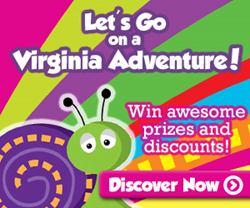 Learning thru Travel is the BEST!
Winchester, Virginia (PRWEB) June 09, 2016
Beginning June 7th, the Kids Trail kicks off its third year promoting fun kids activities here in the Piedmont and Shenandoah Valley of Virginia. Awarded a third grant in 2016 from Virginia Tourism, Go Blue Ridge Travel is expanding the Kids Trail with an educational mission. The game is called Bucket's Buddy. The first objective is to reinforce in kids that it is OK to be different. This is explained through the personalities of four mascots – three snails and one mushroom.
"Bucket" has a "Nancy Drew" personality. Inquisitive, not scared of much, and very adventurous, Bucket loves to solve a mystery. As a ten-year-old girl, Bucket is the leader of the Fitness–Outdoor Adventure card.
"Shenny" is a girl loving all things beautiful, and like Bucket, is a decade in age. Shenny loves new ideas and leads kids through the Creativity Card. Shenny avoids getting dirty at all costs. Her clothes choice (if she wasn't a snail) would be stilettos and beautiful jewelry. Obviously stilettos are not the best shoe choice for Bucket's outdoor adventure trip.
"Ridge" is a guy who is all about the digital world. Very much a nerd. Ridge scarcely goes outdoors. Bucket does an incredible job of "getting him out of his shell", and enjoying the cool things around him. Ridge's card is History. Not opposed to doing research to discover the past, Ridge is younger - more eight and tags along with the girls, but never without one of this digital devices.
"Fungi" is definitely all about food. Being twelve, Fungi is the oldest of his companions. As a mushroom, Fungi is drawn to the farms and food's cycle to the plate. His card is wellness and he enjoys exploring all of the unique food places of the valley, while stuffing himself with their delicious food along the way.
Using a mobile phone, parents will sign in and establish an account for their family. However, upon arrival of the activity, the phone goes away while the game is played. There are four cards each with an educational theme:

Creativity
Wellness
Fitness
History/Family heritage
Each card has between four and five activities that must be completed to win a prize from the sponsor of the card as well as being entered into the FREE Family Weekend Sweepstakes drawing.
Families can break up the card or complete it in one weekend. The goal is to find the magic word associated with each location and submit to win an entry into the Kids Trail Sweepstakes. Each location has a different way to play the game. From a scavenger hunt, climbing a mountain or finding the totem pole, the adventure never ends. The game is located at Go Blue Ridge Travel so parents do not have to worry about misplacing what they have accomplished.
Firsthand experience can provide children with information and a level of understanding that adds elements of realism to their play, and enriches their overall learning. At Throx Market, the sponsors for the Wellness card kids will learn that there are healthy snacks and sodas. Throx has the largest selection of craft soda on the Interstate 81 Corridor here in Virginia. Throx Market is also the Visitor Center for the Kids Trail and Go Blue Ridge Travel, a planning travel guide for the Shenandoah Valley.
The Alamo Drafthouse Cinema Summer KIDS CAMP series is the host for Shenny's Creativity Card. Every day at 10:30 there will be a special family film offered for kids only. All Kids Camp screenings are Pick Your Price - $1-$3 with 100% of ticket sales donated to local nonprofits and schools .
The Family Drive In is the host to the history card. Celebrating sixty years this summer, kids can visit the projector booth and see both the old and the new digital movie equipment. "This card will teach kids that they are living history each day," said Nancy Craun, owner and founder of Go Blue Ridge Travel. Two special parties are planned on June 19th and July 10th for Bucket's new buddies. Come and win prizes and more from our Kids Trail partners.
HF Adventure Center is the sponsor for the Fitness Card. HF Adventure will offer hiking, zip-lining, adventure rope course, and of course river sports like rafting and tubing. Here is where kids will learn it takes a team to accomplish some goals that one cannot do alone.
One lucky family of four will win a 48 hour trip to the Shenandoah Valley with an itinerary customized for their family by the Kids Trail concierge. There are also many other prizes that sweepstakes contestants can win. The contest ends August 30, 2016.
"This is a game for locals and visitors alike. Following our first season, we will be coming out with four new cards for the Fall, says Nancy Craun, owner and founder of Go Blue Ridge Travel. "These will be centered around apple pickin, pumpkin harvest, and one card will be a teen boot camp involving more physical fitness and life survival skills."
The Kids Trail is a community of partners working together to brand the Shenandoah Valley as a great place to raise a family or for multi-generational travel. "I am excited to kick this season off. It feels like we have come a long way from the first meeting of partners three years ago, says Nancy Craun, owner and founder of Go Blue Ridge Travel. "The valley is an exciting place for kids to explore. Bucket is creating new things to add to one's bucket list before you turn eighteen and no longer see the world through the eyes of a child."
About GoBlueRidgeTravel.com
Launched in December 2011, Go Blue Ridge Travel (GoBRT) is an e-commerce marketing company using digital internet channels to both create a travel ecosystem community for the northern Piedmont and Shenandoah Valley of VA, WV, and MD. In 2014, the Kids Trail was launched to promote multi-generational family travel and has received three grants from Virginia Tourism. In 2016, Taste of Blue Ridge, a foodie escape experience supporting local resourcing in the valley.
Founded and owned by Nancy Craun who grew up in the area and has 30 years of experience in the event planning, restaurant, hotel, and marketing arenas. GoBRT covers 160 plus mile radius of the Interstate 81 Corridor spanning the states of Virginia, West Virginia, and Maryland.
Contact: Nancy Craun Founder and Owner GoBlueRidgeTravel.com and ShenandoahValleyKidsTrail.com Phone: 540.533.1853 Email: info(at)GoBlueRidgeTravel(dot)com