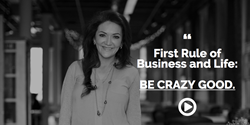 "Be crazy good" - Nina Vaca
(PRWEB) September 29, 2016
Pinnacle Group, a leading provider of IT services and solutions, announced today that its CEO and Chairman, Nina Vaca, is traveling to Vietnam as a Presidential Ambassador for Global Entrepreneurship (PAGE) to advance entrepreneurship.
Vaca will participate in the U.S. Department of State's Global Innovation through Science and Technology (GIST) Startup Boot Camp, an initiative sponsored by the U.S. Department of State and the PAGE program, which is led by Secretary of Commerce Penny Pritzker. Vaca is one of 20 entrepreneurs appointed as PAGE ambassadors by President Obama to help advance entrepreneurship globally.
"It's an honor to participate at the GIST Startup Boot Camp in Vietnam, and empower young science and technology entrepreneurs to build successful startups," said Vaca. "The mission of PAGE is to convey that message to all those we encounter, from the young startup to the established business leader. I know first-hand that entrepreneurship continues to be a key catalyst in growth and innovation around the world. Our goal is to empower globally these aspiring entrepreneurs with the same level of opportunities that we've enjoyed."
GIST Startup Boot Camps empower young science and technology innovators and entrepreneurs through on-the-ground training and mentoring delivered by top U.S. mentors and in-country partners. Training and mentorship combined with exposure and access to capital encourages entrepreneurs to confidently apply their skills to creating science and technology ventures.
During her three-day trip, Vaca is slated to meet with local entrepreneurs and government officials in Hanoi and Ho Chi Minh City and will tour and speak at universities and institutions that are training and investing in science and technology entrepreneurs. In addition to serving as a keynote speaker at the GIST Startup Boot Camp, she will participate in a number of roundtable sessions for entrepreneurs, investors, and incubators all committed to growing local entrepreneurship.
Vaca will share her own entrepreneurial journey of founding Pinnacle Group 20 years ago and growing it to the size and stature it is today. Pinnacle Group has been named to Inc. Magazine's Fastest-Growing Firms list for the past nine years and in 2015 was named the Fastest Growing Women-Owned/Led Company in the U.S. by the Women President's Organization. She will also share the importance of community and civic involvement. In addition to serving as a PAGE ambassador, Vaca also is a German Marshall Memorial Fellow and a delegate of the British-American Project. She is Chairman Emeritus of the United States Hispanic Chamber of Commerce, and a member of the 2016 Class of Henry Crown Fellows at the Aspen Institute.
ABOUT PINNACLE
Pinnacle Group is a leading provider of information technology services and workforce solutions. Pinnacle Group includes Pinnacle Talent Solutions, its information technology staffing and professional services division; Pinnacle MSP, its managed services division; Pinnacle Payrolling, providing payrolling and independent contractor compliance services; and Pinnacle Canada, providing staffing, MSP, and payrolling services in Canada. Pinnacle Group has become one of the largest providers in its industry, with thousands of IT professionals providing services across the U.S. and Canada. For more information visit: http://www.pinnacle1.com
More information about PAGE and its work can be found at: http://beta.commerce.gov/PAGE.