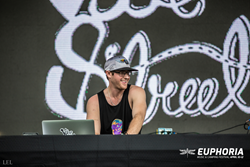 Denver, CO (PRWEB) December 14, 2016
Vibe Street combines the most unlikely of genres. Mixing influences from the Electro-Hip-hop-Glitch-Funk movement with the traditions of bluegrass, folk, and blues, Denver-based Ben Davis of Vibe Street is transforming the way we think about music. A true craftsman, his approach to music is nothing short of innovation. Unabashedly drawing its inspiration from the Colorado music scene, Vibe Street travels through feel-good, blue-grassy tunes while exploring soulful, spacey electronic beats. The result is a conglomeration of inspired music that dares the listener not to dance.
A one-person show with the sound of a six-piece band, Vibe Street will be releasing his sophomore 12 track album on Tuesday, December 20th. A 60-minute foray into sound, the album takes listeners on a journey that uniquely reflects Vibe Streets sound and style in a live setting, while capturing the essence of a full-fledged recorded release.
Using his live sets as inspiration the music blends seamlessly through a musical reflection of sunset, transitioning into a more progressive party landscape of night, and ending with the peaceful contemplation of Twilight turning to dawn. The album gives fans a taste of the diverse anthology that makes ups the full Vibe Street's Sound, in all of its phases. Listeners are encouraged to listen to the album from end-to-end, giving a nod to a time and place where albums were cherished for the sum of its parts and not for a single track herein.
While instantly danceable, the album features some unlikely samples that blend effortlessly in a digital production. Samples from Dave Matthews Band are as equally at home as a taste from the John Butler Trio.
Other notables include samples from David Grisman, Greensky Bluegrass and one might even recognize a touch of Leftover Salmon if they listen carefully.
In a short time on the scene, Vibe Street has performed nationally with appearances at Electric Forest, Euphoria, Counterpoint, Backwoods, Infrasound festivals and has shared the stage with artists ranging from Thievery Corporation to Lettuce to name a few.
Vibe Street has released four tracks as a stream-only teaser via his SoundCloud page to whet the appetites of fans. A precursor to the complete full-length album which will be available for free download on Tuesday, December 20th.
A New Years celebration on Dec 31st at Boulder's Fox Theater with co-headliner, Mimosa followed by a large national tour including stops throughout the Mid-West and East Coast. For more information about Vibe Street, the forthcoming release, or national tour check out http://vibestreetmusic.com
TOUR DATES:
31-Dec Fox Theater -- Boulder, CO
19-Jan Schuba's -- Chicago, IL
20-Jan The Miramar -- Milwaukee, WI
21-Jan Stache -- Grand Rapids, MI
26-Jan Wescott Theater -- Syracuse, NY
27-Jan Knitting Factory -- Brooklyn, NY
28-Jan Stella Blues -- New Haven, CT
2-Feb Hi-Ho -- New Orleans, LA
3-Feb Aisle 5 -- Atlanta, GA
4-Feb The Concourse -- Knoxville, TN
9-Feb Old Rock House -- St Louis, MO
10-Feb Granada Theater -- Lawrence, KS
11-Feb TBA NB
2-Mar The Encore -- Stevens Point, WI
3-Mar Frequency -- Madison, WI
10-Mar Mid East Upstairs -- Boston, MA
11-Mar 8 x 10 -- Baltimore, MD