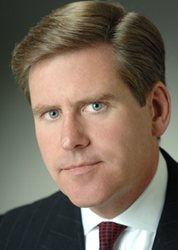 Basking Ridge, NJ (PRWEB) July 25, 2016
The Board of Trustees of the Visiting Nurse Association (VNA) of Somerset Hills, is pleased to announce that Daniel E. Powell, of Bernardsville, NJ, has been appointed President and Chief Executive Officer. Powell, former Board Chairman of the VNA of Somerset Hills, has served as the agency's Interim Chief Executive Officer since February. He will assume overall leadership for the nonprofit healthcare agency's comprehensive program of home health, hospice care, adult day, and community wellness services.
"Dan Powell's business background, leadership, and dedication to the agency and its mission make him an outstanding choice to lead the organization," said Charles A. Reid, III, Esq., Chair of the Board of Trustees. "We are excited that he has chosen to continue sharing his considerable expertise, knowledge and guidance with the VNA of Somerset Hills in this capacity."
Over the course of his career, Powell has specialized in leading performance improvement initiatives to grow revenues, reduce costs and improve operations as an operating executive, strategic consultant, and private equity professional. In addition to serving as a CEO and as an adviser to Boards of Directors for several companies in the consumer product, retail, business service and wholesale distribution industries, Powell has also been active in the banking, private equity, and management consulting industries with McKinsey & Company, Alvarez & Marsal, Citicorp, and The Deerpath Group. He received a bachelor's degree, magna cum laude, from Williams College, and holds a master's degree in business administration from Harvard University, Graduate School of Business.
"I am honored to be given the opportunity to lead the VNA of Somerset Hills, and look forward to working with our accomplished staff and executive team as we continue the agency's mission-based tradition of delivering high quality and innovative healthcare services to the community," said Powell.
About VNA of Somerset Hills
The Visiting Nurse Association of Somerset Hills provides individuals and families with comprehensive, high quality, cost-effective home and community healthcare services, regardless of ability to pay, using partnerships where appropriate. The VNA is a charitable, tax-exempt home health agency and hospice certified by Medicare, accredited by the Community Health Accreditation Program (CHAP) and licensed by the New Jersey Department of Health and Senior Services. Credentials include recognition as a 2015 HomeCare Elite™ Agency, award to the top-performing Medicare-certified home health agencies in the United States.