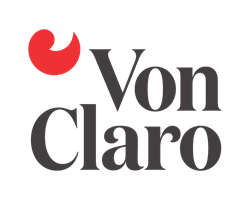 "If you are going to call yourself a marketer, you need to accept the weight of responsibility that comes with the title." - Rob T. Case
(PRWEB) July 25, 2016
VonClaro Inc., the digital marketing solutions start-up led by marketing strategist and co-founder Rob T. Case, has officially opened its doors.
The company accepted funding from two Waterloo region technology investors, and merged Case's RTC Digital Marketing Services agency into the corporation.
Case has taken the reigns as CEO, and Chief Strategist overseeing campaign performance. The final deal brings RTCDMS's proprietary platforms, recently developed decision maker direct targeting process, and current roster of clients to VonClaro Inc.
VonClaro's mission is "to supply clients with above expectation, transparent marketing results while protecting the client's assets from their competitors". They offer paid search, campaign auditing, social growth, programmatic, search engine optimization, multi channel attribution services, and training to businesses globally.
VonClaro engaged Kitchener-Waterloo based Philip Mondor at StudioLocale to help them build their new identity. Mondor and his team developed multiple identities for the company, and assisted in the mediation process to help the corporation settle on one.
Mondor says, "We were thrilled to partner with Rob Case and team to develop the new visual identity for VonClaro. The unlevelled expertise and clarity of vision for VonClaro enabled us to really focus on how their visuals could reflect what they provide to their clients and the new visual brand strongly aligns to the services and superior knowledge of the team. We are excited to see VonClaro continue their success!"
The digital marketing landscape has changed significantly since Case first turned his attention to it in 2001. He has had a front seat for every big development since, and although he is extremely passionate about his work, he states that the digital marketing field has problems.
In 2013, Case took on a one year contract role with Google in Toronto, Ontario. He primarily focused on training account executives/managers in Adwords best practices, and conducted campaign audits across the majority of accounts in the retail and technology sectors.
The audits involved reviewing the tactics, strategies and general management of the campaigns by large marketing agencies, and offering recommendations to agencies so their management efforts could drive a higher level of success for their clients. Case became concerned at the millions in wasted ad spend he saw in some accounts, and even more so at the kind of indifferent responses he received from their respective agencies.
"If you are going to call yourself a marketer, you need to accept the weight of responsibility that comes with the title. If you are strictly focused on your own bottom line, you are not only hurting your client, but you are hurting the lives of every person who relies on your client to feed their family," Case stated. " Many large employers are already bleeding jobs, and this simply doesn't have to be."
In 2014, Case served as 1 of 4 judges for the Google Search Excellence awards, and was excited to see what marketers who cared about results were doing for their clients. This motivated Case to pursue the development of an agency with a heavy focus on the same level of excellence.
As for the security aspects of the model, Case states that corporate espionage as it relates to marketing efforts is a growing problem. "If a company can reach out and steal thousands or even millions of dollars of data from a competitor, it saves them a lot of their own time and money. It's easier and cheaper to hire someone to go work for the competition's agency…"
VonClaro utilizes technology through Kitchener based BoltonSmith Inc to ensure that no one gets out with data they don't own. Clients are setup with secure conduits for exchange of data, and no one internally can remove anything from the systems without immediate flags being raised.
One of the newest additions to the VonClaro client roster is Guelph's MortgageGuys.com which was founded by Chuck Nash and Dario Di Renzo. The franchise is in the process of expanding nationally, and was looking for an agency to help plan and grow their online presence.
"We had sat through at least 12 pitches from agencies, but as soon as we met Rob and his team, there wasn't any doubt who we were going to work with," Nash states. "The expertise VonClaro brings is entirely next level."