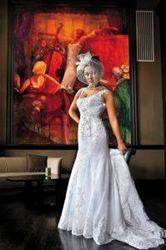 Shenandoah Valley Wedding Venues Exploded
Shenandoah Valley, Virginia (PRWEB) January 22, 2016
It is no secret that the Blue Ridge Mountains and Shenandoah Valley is internationally recognized as a destination for world travelers to experience. What many do not realize is that the valley is also becoming an international wedding and honeymoon destination.
"I am thrilled to be producing the 12th annual Blue Ridge Bridal Show Winter Marketplace. The mission of Blue Ridge Bride is to brand the Shenandoah Valley as one of the best choices as a wedding destination. I truly feel in my heart that the valley offers something to Brides that is unique and special. When you stand on a ridge and look across at the valley between these two mountains, there is a settling of the pace of the heart and a sigh that comes through the lips as you close your eyes and take in the peace of the Valley. The valley also has one of the largest selections of venues offering brides from luxury to budget options as well as professional vendors that can match any metropolitan area for talent," said Nancy Craun, Owner and Founder of Go Blue Ridge Travel.
This year's Blue Ridge Bridal Winter Marketplace is focusing on the expanded wedding venue options brides and grooms can choose from. Beginning along the Potomac River with HF Adventure's breathtaking views of Harpers Ferry, WV, one can also choose resort one stop destinations such as the Bavarian Inn and HIllbrook Inn in West Virginia. Couples can enjoy a European flavor to one's wedding.
From a historical aspect,The George Washington Hotel offers a one-stop shop in historic Winchester, Virginia where guests can enjoy an easy walk to the Old Town Mall featuring over 35 restaurants.
For golf enthusiasts, there is Shenandoah Valley Golf Club and Holiday Inn and Suites Front Royal, Blue Ridge Shadows. Vineyards are popular anywhere in the world and the valley has many wine venues to select from. Agriculture being the heart of the Shenandoah Valley's economy, one can select from The Yellow Barn at Shenandoah Caverns and Cross Keys Barn in Harrisonburg, Virginia. Perhaps no venue captures the aura of the valley better than On Sunny Slope Farm.
Blue Ridge Bridal Winter Marketplace will be held at Millwood Station Event Center in Winchester, Virginia on January 31st from 1 to 4:30 pm. Celebrating twelve years producing the premier Shenandoah Valley bridal shows, brides and grooms will meet the best wedding professionals while enjoying demonstrations such as ballroom dancing. This is the fifth year for the Groom's Challenge sponsored by Alpha Voyages Travel Agency. A game of chance, one groom will win a Honeymoon of his choice.
New this year for the bride's is the contest to "Become A Model for a Day." Two brides will be selected to be part of the red carpet bridal fashion show getting hair updos and makeup make overs prior to putting on a dress and taking a walk down the Red Carpet runway.
Making the planning of a visit to the valley much easier for the bride and their guests, Blue Ridge Bride's sister website Go Blue Ridge Travel offers an itinerary planning tool to pick lodging and activities for the guests coming into the area.
As a follow up to the planning process, Alpha Voyages will host a Travel Expo showcasing travel in the Shenandoah Valley as well as planning a honeymoon anywhere in the world in Winchester at Delco Plaza on February 21 from 1 to 4 pm.
About GoBlueRidgeTravel.com
In 2011, GoBlueRidgeTravel.com (GoBRT), also a division of Encore Event Partners was launched to be the only Tri-State regional website showcasing the activities, events, and accommodations in the Blue Ridge Mountains and northern Shenandoah Valley. With a ten year relationship of marketing the region to brides for their wedding destinations thru Blue Ridge Bridal Show, GoBRT is now reaching out to families promoting multi-generational travel. Covering Virginia, West Virginia, and Maryland, Go Blue Ridge Travel's goal is to brand this 160 mile radius as a travel and wedding destination both nationally and internationally.
Contact: Nancy Craun Founder and President BlueRidgeBride.com GoBlueRidgeTravel.com Phone: 540.533.1853 Email: info(at)GoBlueRidgeTravel(dot)com and brb(at)BlueRidgeBridalShow(dot)com.