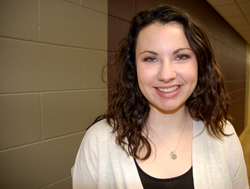 Reading, Pa. (PRWEB) April 14, 2016
Emily Reed, Akron, Pa., has been named a 2016 Newman Civic Fellow by Campus Compact. A junior studying social work at Alvernia University, Reed is highly involved in service through the university's Holleran Center for Community Engagement.
Through service, research, and advocacy, Newman Civic Fellows are making the most of their college experiences to better understand themselves, the root causes of social issues, and effective mechanisms for creating lasting change. As these students tackle community challenges, they provide fresh energy and perspective, inspire and mobilize others, and develop their own skills and potential.
"Emily's kindness, her very strong leadership skills, and her empathy are clear to anyone who has the pleasure of working with her, but what really shines through is the positive nature of her personality," said Jay Worrall, director of the Holleran Center for Community Engagement at Alvernia.
Reed is highly involved in a number of service-related initiatives both on campus and in the community, including travel projects as part of regular Alternative Breaks, serving the underprivileged in places like inner-city Camden, N.J., Cincinnati, Ohio, and rural Virginia. She is a regular participant in Alvernia's annual Days of Service, and has helped peers navigate many different college milestones, such as their first tours, the full new student orientation process, and helping upperclassmen appreciate social justice issues though her role as a Catholic Relief Services Ambassador.
"As the President of Alvernia's service fraternity Alpha Phi Omega (APO), Emily had to provide leadership for the APO regional conference, hosted — for the first time — at Alvernia this spring. Her ability to remain positive, even as things sometimes became difficult, is a testament to her character," said Worrall. "Emily and her team pulled off a flawless event on their first try, including organizing an impactful service activity at Carsonia Park for 100 students from 22 different schools in the region. She is indeed well-deserving of this award!"
Newman Civic Fellowships are named for Dr. Frank Newman, a founder of Campus Compact who had a tremendous impact on American education and its role in the development of citizens prepared to make a difference.
"We are fortunate to have the opportunity to celebrate such an extraordinary group of students," said Campus Compact president Andrew Seligsohn. "We are seeing a resurgence in student interest in acting to create lasting social change, and this year's Newman Civic Fellows exemplify that commitment."
Campus Compact is a national coalition of nearly 1,100 college and university presidents who are committed to fulfilling the civic purposes of higher education to improve community life and to educate students for civic and social responsibility. For more information about the organization and the award, visit http://www.compact.org.
ALVERNIA is a thriving university that empowers students through real-world learning to discover their passion for life, while providing the education to turn what they love into lifetimes of career success and personal fulfillment, helping them make the world a better place. Situated on a scenic 121-acre suburban campus in historic Berks County, Pa., the university of more than 3,000 students is conveniently located near Philadelphia (60 miles) and within an easy drive of New York, Baltimore and Washington, D.C.