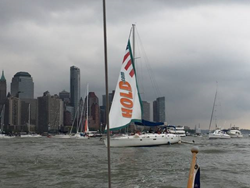 The opportunity to represent Hold Brothers at the America's Cup comes around once in a lifetime and it was a privilege to have a presence at such a historic event
New York, NY (PRWEB) June 09, 2016
The Hold.com sail flew prominently at the 35th Louis Vuitton America's Cup World Series New York.
Last month's event heralded the return of the America's Cup to New York after 96 years. Beginning in 1851, the history of the America's Cup provides an interesting look into the competitive world of yacht racing. The America's Cup is the oldest trophy in international sport, pre- dating the modern Olympics by 45 years, and is yachting's biggest prize. In more than 150 years, only four nations have won.
The Louis Vuitton America's Cup World Series is the first stage of competition in the 2017 America's Cup that began last summer. The current defender of the America's Cup is Team Oracle and challengers are competing for a chance to take on Oracle Team USA in the Americas Cup finals. That match race is scheduled for June 2017 on the Great Sound of Bermuda.
The race was televised globally as over 75,000 people watched the sailing from the shores of Battery Park. Gregory Hold, CEO of Hold Brothers, represented the company: "The opportunity to represent Hold Brothers at the America's Cup comes around once in a lifetime and it was a privilege to have a presence at such a historic event."
About Hold Brothers
Hold Brothers is a leader in providing equities traders with the tools and information they need to execute trades quickly, effectively and efficiently, in any market environment. Since 1994, Hold Brothers has been committed to developing flexible and cutting-edge technology designed to meet the changing demands of the global trading industry. For more information, please visit: http://www.hold.com.
*Hold Brothers is the marketing name for Hold Brothers Capital, LLC, (a registered broker-dealer and a CBOE member) and its affiliates. All securities activities and transactions are handled through Hold Brothers Capital LLC.