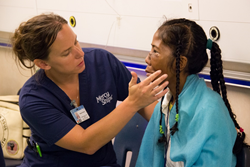 I introduced myself and pointed to the outpatient tent, reassuring her that soon she'd be out of the hospital and would no longer need to cover her face.
Toamasina, Madagascar (PRWEB) May 12, 2016
Since 1978, volunteer nurses have cared for patients in over 81,000 surgeries onboard the hospital ships operated by Mercy Ships, a global faith-based nonprofit organization. As the world acknowledges International Nurses Day, Mercy Ships recognizes this profession's critical contribution to delivering life-changing and life-saving healthcare to patients onboard Mercy Ships. Some of the patients have waited decades for medical help. The Africa Mercy, the world's largest charity hospital ship, would not be able to deliver healthcare services without its crew of exemplary volunteer nurses.
One patient named Vololonirina had a facial tumor that started to grow in her cheek when she was just 12 years old. Finally, 32 years later, she found hope and healing onboard Mercy Ships, where the tumor was removed. Nurse Natalie Bullock from Kankakee, Illinois, helped care for Vololonirina after the operation.
Bullock remembers when she first met Vololonirina. "I first saw her sitting in the waiting area, awaiting her admission for surgery. She had a beautiful blue scarf covering the lump on her face and seemed fearful. I introduced myself and pointed to the outpatient tent, reassuring her that soon she'd be out of the hospital and would no longer need to cover her face. I didn't think she would even remember me because she was so reluctant to make eye contact," recalls Bullock. "Weeks later, she was discharged and arrived at the outpatient clinic, smiling, with the tumor gone and the same blue scarf draped over her shoulders. Not only did she remember me, but she invited me and a few others to her village to meet her family. They were sure she was incurable and said they couldn't believe she would ever have a normal-looking face again."
Bullock has been volunteering with Mercy Ships since 2012. Patients in the wards under her watchful care have had burn contractures, tumors, orthopedic deformities or obstetric fistulas. While she enjoys all specialties of nursing, she comes to the ship with 15 years of women's health nursing experience. During this field service in Madagascar, she has put that experience to use by leading a team to open a new land-based fistula center that cares for women who become incontinent after childbirth injuries. Bullock plans to stay in Madagascar after the ship sails to continue her work at the center. See a short video about Bullock's volunteer service with Mercy Ships here: Stories of Mercy: Natalie Bullock
Mercy Ships requires approximately 750-800 nurses of all kinds to volunteer for a new 10-month field service in an African country each year. There are about 100 nurses onboard at any given time. Some volunteer for two weeks to several months of service. Others give years and call the ship their home. In the past two years while in Madagascar, the nurses have cared for patients after more than 2800 free specialized surgeries, helped train 1791 healthcare workers in capacity-building medical courses, and helped mentor 137 medical professionals. Mercy Ships volunteer nurses come from countries around the world and are part of the ship's global community of over 400 volunteers in various positions from 45 nations.
For information about how to volunteer as a nurse with Mercy Ships during the 2016-2017 Field Service to Benin, West Africa, go to: http://www.mercyships.org/volunteer
###
About Mercy Ships:
Mercy Ships uses hospital ships to deliver free, world-class healthcare services, capacity building and sustainable development to those without access in the developing world. Founded in 1978 by Don and Deyon Stephens, Mercy Ships has worked in more than 70 countries providing services valued at more than $1.2 billion, treating more than 2.54 million direct beneficiaries. Each year Mercy Ships has more than 1,600 volunteers from 45 nations. Professionals including surgeons, dentists, nurses, healthcare trainers, teachers, cooks, seamen, engineers, and agriculturalists donate their time and skills to the effort. Mercy Ships seeks to transform individuals and serve nations one at a time. For more information click on http://www.mercyships.org
For More Information Contact:
Mercy Ships Public Relations Coordinator
Tel: (903) 939 7000
Email: us.media(at)mercyships.org
http://www.mercyships.org
For Int'l: Diane Rickard
International Media Manager
Mercy Ships
Diane.rickard(at)mercyships.org
http://www.mercyships.org
Hi-res photos and general Mercy Ships B-Roll video footage are available upon request.
About International Nurses Day: International Nurses Day is celebrated around the world every May 12, the anniversary of Florence Nightingale's birth. In the U.S., National Nurses Week was first observed from October 11–16, 1954 in honor of the 100th anniversary of Florence Nightingale's mission to Crimea. President Nixon later proclaimed a "National Nurse Week" in 1974. In 1982, President Reagan signed a proposal officially designating May 6 as "National Recognition Day for Nurses," now known as National Nurses Day or National RN Recognition Day. In 1990, the American Nurses Association (ANA) expanded the holiday into the current National Nurses Week celebrated from 6 May to 12 May.