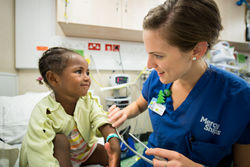 We are pleased to continue creating broad and global awareness of Mercy Ships throughout the fashion industry
New York, New York (PRWEB) May 16, 2016
For the second year in a row, Mercy Ships, a global organization committed to providing the world's impoverished with free, basic healthcare and life-changing medical surgeries, will benefit as charity partner of the American Apparel & Footwear Association. A portion of the proceeds from the [American Image Awards event in New York on May 24 will help support the efforts of Mercy Ships to provide direct patient care and strengthen healthcare systems in Africa.
"AAFA is a leader of positive change for the apparel and footwear industry and is a natural partner in our work to make a lasting, transformational difference in developing nations in Africa," said Don Stephens, President and Founder of Mercy Ships. "We are grateful for the support of AAFA and look forward to a wonderful American Image Awards event this year."
The world's largest private hospital ship, the Africa Mercy, has been docked in Toamasina, Madagascar, for most of the past two years. In addition to meeting immediate medical needs, Mercy Ships has focused on helping local medical professionals care for patients after the hospital ship departs. Volunteers onboard have provided more than 2800 free specialized surgeries, trained 1791 healthcare workers in capacity-building medical courses and mentored 137 medical professionals. Participants included Malagasy surgeons, nurses, nurse anesthetists and others.
"For the second consecutive year, AAFA is honored to have Mercy Ships as its charity partner for the American Image Awards. We are pleased to continue creating broad and global awareness of Mercy Ships throughout the fashion industry," said Rick Helfenbein, AAFA President and CEO. "We hope to make this our most memorable benefit and raise awareness of the importance of the mission of Mercy Ships."
For more information about the AAFA Image Awards, please go to: http://www.mercyships.org/americanimageaward.
###
ABOUT MERCY SHIPS:
Mercy Ships uses hospital ships to deliver free, world-class healthcare services, capacity building and sustainable development to those without access in the developing world. Founded in 1978 by Don and Deyon Stephens, Mercy Ships has worked in more than 70 countries providing services valued at more than $1.2 billion, treating more than 2.54 million direct beneficiaries. Each year Mercy Ships has more than 1,600 volunteers from 45 nations. Professionals including surgeons, dentists, nurses, healthcare trainers, teachers, cooks, seamen, engineers, and agriculturalists donate their time and skills to the effort. Mercy Ships seeks to transform individuals and serve nations one at a time. For more information click on http://www.mercyships.org
For More Information Contact:
For USA: Pauline Rick
US Public Relations Coordinator
Mercy Ships
Office Tel: (903) 939-7000
Mob: (972) 922-5442
Email: us.media(at)mercyships(dot)org
For Int'l: Diane Rickard
International Media Manager
Mercy Ships
Diane.rickard(at)mercyships(dot)org
http://www.mercyships.org
About AAFA:
Representing more than 1,000 world famous name brands, the American Apparel & Footwear Association (AAFA) is the trusted public policy and political voice of the apparel and footwear industry, its management and shareholders, its four million U.S. workers, and its contribution of $361 billion in annual U.S. retail sales. AAFA stands at the forefront as a leader of positive change for the apparel and footwear industry and delivers a unified voice on key legislative and regulatory issues. AAFA's comprehensive work ensures the continued success and growth of the apparel and footwear industry, its suppliers, and its customers. Learn how AAFA wears our mission at http://www.wewear.org
Hi-res photos and general Mercy Ships B-Roll video footage are available upon request.