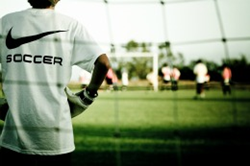 The coaches at Sacred Heart exemplify college soccer success.
San Rafael, CA (PRWEB) April 11, 2016
US Sports Camps and Nike Sports Camps prepare for another summer on the picturesque campus of Sacred Heart University, located in Fairfield, Connecticut.
Camp is directed by head soccer coaches Kim Banner and Joe Barroso and runs separate programs for boys and girls, each offering day, extended day, and overnight options. Overnight campers, who are at least 9 years of age, stay in the university dorms and have the opportunity to experience what campus living is like. All campers receive professional coaching, meals, activities, and the experience to make them better players returning to their home teams. Girls programs run once in June from the 24-28, and also in July, on the 5-9. Boys camps are scheduled for July 20-23, and 27-31. All sessions are available to campers ages 6-18, with the exception of boys camp July 20-23, which is offered to competitive players ages 13-18.
"The coaches at Sacred Heart exemplify college soccer success. Not only are their respective college teams successful, but their players have a deep love of the game," states Jan O'Connor, Executive Vice President and head of the soccer department at US Sports Camps.
Registration is open, and space will fill quickly. For more information or to register for soccer camp, visit http://www.ussportscamps.com or call 1-800-NIKE-CAMP.
About US Sports Camps, Inc.
US Sports Camps (USSC), headquartered in San Rafael, California, is America's largest sports camp network and the licensed operator of Nike Sports Camps. Over 75,000 kids attended a US Sports Camp program in 2015. The company has offered summer camps since 1975 with the same mission that defines it today: to shape a lifelong enjoyment of athletics through high quality sports education and skill enhancement.