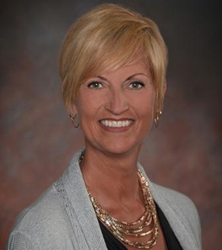 Lori's zeal and passion for our business is unequaled and she is an outstanding advocate for Armed Forces Insurance and all veterans and military service members," said Kurt Seelbach, President and CEO of Armed Forces Insurance (AFI).
Leavenworth, Kansas (PRWEB) September 22, 2016
Armed Forces Insurance(AFI), the insurance company of choice for current and retired members of the uniformed services, their children, and Department of Defense civilians, today announced the promotion of Lori L. Simmons to Chief Marketing Officer & VP, Marketing & Corporate Communications. Lori, who has been with Armed Forces Insurance for 21 years, was formerly the company's Assistant Vice President of Marketing and Communications. In her new role, Lori will oversee all corporate branding as well as direct all of Armed Forces Insurance's integrated marketing and public relations programs in addition to serving as company spokesperson. Lori and AFI share the same mission in many ways - "Our Mission is You" - and Lori's professional and personal life proves it daily through her work and deep commitment to the military community and others.
"Lori enthusiastically grasped her marketing challenge and quickly assumed all responsibilities thereunder. In executing same, she creatively and deliberately delves into EVERY marketing opportunity, molds it to best connect with our target membership base, and then leads her team to achieve success for Armed Forces Insurance. She remains keenly aware of emerging opportunities, and leverages each to the best of her ability. Lori has clearly demonstrated her potential for increased responsibility, and I am delighted to see her promoted to Chief Marketing Officer and VP Marketing & Communications," said Garry L. Parks, Lieutenant General, U.S. Marine Corps (Ret.), Chairman.
Lori will continue to serve as the President of the Armed Forces Insurance Foundation, which works to educate the military community on an array of personal financial topics. As a former military spouse, she is a passionate advocate for our nation's military families and plays an integral role in the Armed Forces Insurance Military Spouse of the Year® program. In addition to her work with Armed Forces Insurance, Lori also has experience in running successful marketing initiatives for both education and leading defense contracting organizations.
"Armed Forces Insurance is fortunate to have Lori in this key position. As a former Military Spouse she possesses first-hand knowledge and insight into the needs of military personnel. Her zeal and passion for our business is unequaled and she is an outstanding advocate for Armed Forces Insurance. I look forward to working with her to communicate the Armed Forces Insurance story to all veterans and military service members," said Kurt Seelbach, President and CEO of Armed Forces Insurance (AFI).
Lori is a member of several leading industry associations, including the Insurance Marketing & Communications Association, the Professional Insurance Communicators Association, NAMIC, PCIAA, and the Leavenworth Chamber of Commerce Military Affairs Council. She is on the Board of Advisors for The Milspo Project, a non-profit dedicated to providing military spouses with the resources they need to succeed in business and in life. She also serves on the Board of Directors for the Armed Forces Insurance Agency, and the Lockheed Martin Armed Forces Bowl presented by ESPN. She and her team have won multiple Direct Marketing Association AMBIT Awards. Her educational credits include a B.S. in Business Marketing from LaSalle University, as well as professional certifications in Database Marketing, Digital Marketing, Direct Marketing, and Training and Development from the University of Oklahoma. She is currently pursuing an Executive Certification in Internet Marketing from St. Louis University. She is married with children and delighted to be a grandmother as well.
# # #
About Armed Forces Insurance
AFI was founded in 1887 by military leaders with a single mission: to protect the property of those who protect our nation. The company provides premium quality, competitively priced property and casualty insurance to military professionals throughout the United States and overseas. Armed Forces Insurance understands that its members have unique circumstances and insurance needs, enabling the company to offer a level of personalized service that's unequalled in the industry. For more information, visit the website at http://www.afi.org or call 1-800-495-8234, and follow us on Linked In, Facebook, Twitter and Instagram.
For information or to arrange an interview contact: Barbara Pflughaupt, BP Media Relations, LLC
212-707-8181 or Gabrielle Torello 917-312-2832