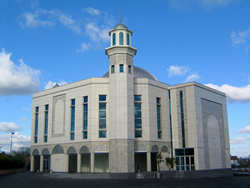 Extremists are being given free rein in Pakistan and one must not forget that this has implications in Britain. There is heightened concern about radicalisation in the UK
London (PRWEB UK) 15 December 2016
• Politicians and Ahmadiyya Muslims (including victims belonging to the mosque) to gather at Britain's biggest mosque, Baitul Futuh Mosque London

Friday Dec 16 at 1.00 pm
Further hundreds to gather for prayers in Ahmadiyya Muslim mosques across Britain in memory of those subjected to extremist violence in UK and Pakistan
An orchestrated and premeditated attack on a mosque in Pakistan this week by supporters of an extremist movement with links to Britain has caused widespread alarm amongst UK Muslims.
An emergency meeting of faith leaders in the Ahmadiyya Muslim Community in the UK ended in the early hours of Tuesday after news that a frenzied mob of 1000 people attacked their mosque, that resulted in the death of one Ahmadi Muslim.
The attack occurred in Punjab, Pakistan, on Monday after extremist-sympathisers targeted a mosque belonging to the Ahmadiyya community.
There are real fears that the Ahmadiyya community in Britain, already reeling from the murder of their faith member, Glasgow shopkeeper Asad Shah, will be subjected to more hate and targeted attacks.
Now Ahmadi Muslims are asking others to join them in a show of solidarity against extremism at Friday prayers in mosques throughout Britain. Relatives of the deceased, Malik Khalid Javaid who died of a heart-attack during the violence, will join the gathering at Britain's biggest mosque on Friday December 16.
Prayers will be offered in memory of all those who have been subjected to extremist attacks in Britain and Pakistan. Amongst the congregation at the Baitul Futuh mosque in Morden, south London, will be individuals from Dulmial/ Chakwal, in Punjab, Pakistan – the locality where the mosque was attacked.
Rafiq Hayat, National President of the Ahmadiyya Muslim Community UK, said:
"The Chakwal attack was an orchestrated and pre-planned campaign by sympathisers of Khatme Nabuwwat. This group has branches in the UK and is linked to hate-mongering in this country.
"The attack followed the first ever attack by the Pakistan authorities on our headquarters in Rabwah under the guise of anti-terror laws – despite no evidence of any violence by our community in the history of our existence – where four Ahmadis were arbitrarily arrested and have been tortured in custody.
"Extremists are being given free rein in Pakistan and one must not forget that this has implications in Britain. There is heightened concern about radicalisation in the UK.
"We express our absolute shock and outrage at the continuing targeting and attacks upon minorities in Pakistan. Pakistan's draconian blasphemy laws and religious apartheid allows fundamentalists to peddle their hate and whip up attacks upon minorities. Ahmadiyya, along with Shias and Christians and Hindus are often attacked thus.
"We call upon the international community to put pressure on Pakistan for the immediate release of the Ahmadis arrested and prevent any further attacks on the community and to ask for Pakistan to end its harassment and persecution of Ahmadis. Bringing to justice the perpetrators of this heinous attack is of paramount importance."
-ends
Media contacts
Basharat Nazir media(at)ahmadiyya(dot)org(dot)uk Tel +447703 483 384
Mahmood Rafiq Tel +447971 060 962
http://stopthepersecution.org
http://www.loveforallhatredfornone.org