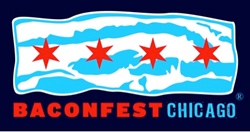 This is like no other baconfest around, there will be Michelin-Star recipients, James Beard nominees, chefs on the 2016 Bib Gourmand List all creating delectable bacon dishes, said Baconfest Co-founder Seth Zurer.
Chicago, IL (PRWEB) April 10, 2016
Some call it nirvana.
Some call it bacon heaven.
The 8th Annual Baconfest Chicago is coming to the UIC Forum, located at 725 West Roosevelt, on April 30 and May 1. There will be over 150 restaurants participating; among them, 45 are first-time participants. The fest includes three sessions: lunch and dinner on Saturday, and brunch on Sunday. Each session will feature a brand new line up of 50-60 restaurants/chefs.
To find out which Baconfest vets, Food Network stars, Golden Rasher Award Winners (the Oscars of the bacon world), and new restaurants will be at Baconfest, visit 2016 Baconfest Chicago Restaurant Roster.
April 30 - Saturday Lunch
Featured Cocktail:
Tiki Bar
11:00 AM - 12:00 PM
Cooking Channel VIP hour
12:00 PM - 3:00 PM
General Admission Period
April 30 - Saturday Dinner
Featured Cocktail:
Old Fashioned Bar from longtime partner Templeton Rye.
6:00 PM - 7:00 PM
Cooking Channel VIP Hour
7:00 PM -10:00 PM
General Admission Period
NEW TO THE FEST
May 1 - Sunday Brunch presented by Jewel-Osco
Featured Cocktail:
Bloody Mary Bar
11:00 AM - 12:00 PM
Cooking Channel VIP hour
12:00 PM - 3:00 PM
General Admission Period
2016 Baconfest Chicago Ticket Information
VIP Tickets ($200) offer access to the Cooking Channel VIP Hour and general admission period for the session selected. General admission tickets ($100). All ticket-holders receive unlimited dishes from the chefs, seven drink tickets (redeemable for beer, wine and cocktails from Baconfest's beverage partners), a Baconfest tote bag and a souvenir program guide.
Tickets are on sale now at http://www.BaconfestChicago.com/ticket.
About Baconfest Chicago
Baconfest Chicago holds its eighth tasting event on April 30 and May 1, 2016 at the UIC Forum (725 West Roosevelt). Ticketholders gain access to a bacon-wonderland where the city's best chefs hand out amazing creative bacon snacks. Luxury brands, artisan bacon-makers, and bacontrepreneurs display, sample, and sell a multitude of bacon products. The best mixologists and brewers hand out bacon-inspired cocktails, beer and wine. To celebrate special achievement in the bacon arts, Baconfest gives out Golden Rasher Awards (the Oscars of the bacon world). Best of all, Baconfest is good for America. In addition to hosting a food drive and raffle at the event, Baconfest Chicago donates a portion of proceeds from ticket sales to the Greater Chicago Food Depository. In 2015 alone, Baconfest donated $75,000 to the organization. Since 2009, Baconfest has donated more than $300,000 to Chicago's food bank, which translates into nearly 1,000,000 meals for hungry people in the area.