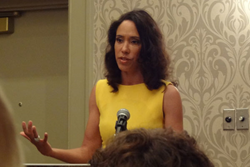 The ban on these non-lethal weapons makes no sense given that it has been legal for several years for law-abiding citizens to use firearms, very lethal weapons, to protect themselves in the District of Columbia.
Washington, DC (PRWEB) August 03, 2016
Today Arsenal Attorneys™ filed a suit in the US District Court in Washington, DC on behalf of three plaintiffs challenging the District of Columbia's ban of Tasers® and other non-lethal electronic arms.
The plaintiffs are asking the court to declare DC's ban on non-lethal electronic self-defense devices unconstitutional in violation of the Second Amendment. A successful outcome for the plaintiffs would likely to lead to repeal or challenges of similar anti-self-defense laws in other jurisdictions. Several states currently ban possession and/or carry of electronic arms, including New York, New Jersey, Rhode Island, and Hawaii. In addition, a number of municipalities ban electronic arms, including Baltimore City and County and New Orleans, and various smaller cities across the country.
Arsenal Attorneys™ filed their clients' case, Wright v. District of Columbia (Case Number 16-cv-1556), against the District of Columbia and Metropolitan Police Department Chief Kathy Lanier. An application for a preliminary injunction will be filed as soon as the defendants are served.
The lead plaintiff is Crystal Wright, a public relations professional, political commentator and author. Ms. Wright publishes a blog entitled "Conservative Black Chick." She is also author of the newly released book by Regnery Publishing titled "Con Job: How Democrats Gave Us Crime, Sanctuary Cities, Abortion Profiteering, and Racial Division." Court documents recite that Ms. Wright has been cyber-stalked and threatened for her outspoken political beliefs. Another plaintiff is Brendan Turner, who has twice been robbed at gunpoint in DC. The third plaintiff is Traci Dean, a nurse who often works late hours. All three plaintiffs want a Taser® to protect themselves in appropriate circumstances. Each applied to Taser® International to purchase a Taser® Pulse model and were denied based on DC law which prohibits a Taser® or stun gun just the same as an explosive like a grenade.
Ms. Wright originally considered a firearm for self-defense; however, the District of Columbia's restrictive gun control laws made that a difficult and long process. Her parents suggested she obtain a stun gun as a short term, non-lethal solution. They were shocked when her attempt to purchase a Taser® online was barred by DC law.
Wright said, "The ban on these non-lethal weapons makes no sense given that it has been legal for several years for law-abiding citizens to use firearms, very lethal weapons, to protect themselves in the District of Columbia." She continued, "Shooting another human being changes the lives of all involved, even when it is legally justified. There are extremely negative legal, social and psychological consequences I would prefer to avoid, if at all possible."
The plaintiffs' attorney, George Lyon, of Arsenal Attorneys™, a national firearms and Second Amendment law firm based in Arlington, VA, said, "The Supreme Court has clearly stated that the Second Amendment is not limited to guns. It extends to all arms commonly possessed and used for self-defense. That plainly includes Tasers®, which are legal in the vast majority of states in the country."
According to Mr. Lyon, his clients' case became stronger following a US Supreme Court decision in March reversing a Massachusetts conviction for possession of a stun gun on Second Amendment grounds. In that case, Caetano v. Massachusetts, the Supreme Court held that the state court's decision affirming the conviction was inconsistent with the Supreme Court's decision in District of Columbia v. Heller. Massachusetts ultimately dropped the charge against the defendant rather than defend its prohibition on stun guns.
Ultimately, attorney Lyon said, "The Taser ban is a remnant of DC's anti-self-defense mindset that the Supreme Court rejected in the landmark Heller decision. It's time for it to go."
D.C. currently classifies Tasers and stun guns as "destructive devices" the same as bombs and poison gas. Attorney Lyon called that classification "nonsense, given that Tasers are not designed to kill or cause permanent injury." He explained, "A Taser is designed to temporarily incapacitate an assailant so the intended victim can get away and call the police. Police use these devices every day to subdue suspects without significant injury. The U.S. Justice Department has stated that police use of Tasers decrease injuries to both suspects and officers. Ordinary citizens should have access to this self-defense tool for the same reasons." According to the Taser website, some 18,000 law enforcement agencies are equipped with the device and more than 275,000 Tasers have been sold to the public.
Attorney Lyon understands these issues first hand. He is a DC resident, and he was one of the original plaintiffs of the Heller v. District of Columbia (577 US), in which the Supreme Court held in 2008 that the Second Amendment guarantees an individual's right to possess a firearm for self-defense within the home. Lyon was also a plaintiff in Palmer vs. District of Columbia (554 US 570), in which the DC Federal Court overturned DC's complete ban on the carrying of firearms outside the home in 2014. In addition to his law practice, Lyon is a certified firearms instructor and self-defense expert. He regularly helps clients with gun ownership and carry permits in the District of Columbia, Maryland, and Virginia.
A GoFundMe fundraising drive has been launched to raise money to cover the plaintiffs legal fees and court costs for Wright v. DC and similar Second Amendment legal action.