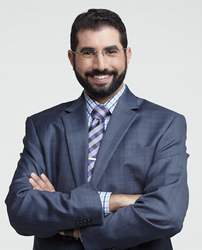 We're doing things different, it's a digital uprising with R6S leading the charge.
Los Angeles, CA (PRWEB) February 15, 2016
Ash Sobhe, the Founder and CEO of the award-winning digital marketing agency ITC, announces the official launch of R6S. An innovative creative media group, R6S blends integrated digital marketing with the latest in public relations and creative content development.
Building on the success of his award-winning team at ITC, Sobhe and R6S take an unique approach to building relationships with clients. By jettisoning the tired "service package" used by many branding and marketing companies, R6S will work hand in hand with clients to create the team that melds with the client's priorities and personality. This will be a much more organic relationship, building genuine content and a brand that a consumers can instinctively trust.
Sobhe said, "Our goal is to merge the technology and tools we utilize to achieve our marketing goals with personal knowhow and team spirit. Our creative team will work enthusiastically hand-in-hand with our exclusive clients to create a branding roadmap that will have a distinctive energy and unique approach. We're doing things different, it's a digital uprising with R6S leading the charge."
The company's approach to helping a client achieve its goals is described as an R6S Coterie. Rather than providing clients with an impersonal list that could suit anyone, R6S forms exclusive partnerships that cater to their individual aspirations and needs, looking beyond routine approaches or cookie cutter applications, or simply what has been done before. It is a unique union between the R6S team and the client to create a singular digital marketing experience unlike any other.
Some of the brands the R6S Team has worked with, include: Lamborghini, UCLA, Pressed Juicery, State Farm, Anto Distinctive Shirtmakers and Madison Los Angeles.
On March 15, 2016, R6S is hosting its official launch party. The theme is a Digital Uprising, and it will feature dignitaries from the community including Mayor James Bozajian and Councilmember Fred Gaines, plus representatives from the offices Barbara Boxer, Matt Dabeneh, Sheila Khuel, Ted Lieu, and Fran Pavley. The evening will be also include a ribbon-cutting, a silent auction benefiting CSUN's scholarship fund. Follow the conversion with #Coterie.
Media people and journalists wishing to attend the event can contact Hello(at)R6S(dot)com for more information.
ABOUT RS6
A wickedly-creative blend of integrated marketing strategies, the award-winning team at R6S delivers avant-garde digital solutions to an elite list of clientele. Founded by Ash Sobhe, R6S is a creative media group. R6S specializes in organically growing businesses through R6S Coteries—customized partnerships which deliver unprecedented results. Always a leader and never a follower, Sobhe and his team leap beyond the ordinary to deliver dynamic solutions with unprecedented results. Sobhe's company was declared one of the Top 10 Best Design firms by 10 BestDesign. It was also awarded a Top 5 position by MOZ, the marketing analytics authority, and declared a Top 50 SEO company by an independent ranking company. Visit http://www.R6S.com to explore more.