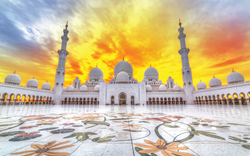 We are thrilled to showcase the magic and mystique of Abu Dhabi with outstanding opportunities to live the grandeur of this destination firsthand with our destination experts on hand every step of the way
Moonachie, NJ (PRWEB) December 06, 2016
STI Travel, part of the Central Holidays family of travel brands, continues on its expansion path with the launch of a new partnership with the Abu Dhabi Tourism & Culture Authority to boost tourism to the destination. The company is working to create awareness about this welcoming and amazing destination and to increase bookings with the amazing experiences throughout Abu Dhabi – one of the hottest travel destinations in the world that offers a distinctive blend of a cosmopolitan city life coupled with captivating culture & heritage.
Glittering like a mirage, Abu Dhabi is a shining gem of the United Arab Emirates. It's a place where East and West meet and mix in perfect combination, mesmerizing travelers at every turn. The destination has a world-renown reputation as one of the globe's most attractive and rapidly developing leisure travel spots with unrivaled Arabian hospitality to boot. Abu Dhabi is an intriguing land that seamlessly presents old-world souks and elegant modern shopping malls, rolling sand dunes and championship grass golf courses, remote Bedouin villages and an expansive array of utltra-luxe hotels. Abu Dhabi also hosts a number of great annual events such as the Formula 1 Etihad Airways Abu Dhabi Grand Prix, Abu Dhabi Food Festival, Abu Dhabi HSBC Golf Championship, Abu Dhabi Art, and so much more. It's a destination that offers a remarkably diverse array of experiences for all to enjoy.
Central Holidays' Discover Abu Dhabi with Dubai travel program, starting at $730 (land-only), features a six day stay in this distinctive destination with plenty of time to delve into the area's treasures. Here, travelers will visit the Dubai Museum in the Al-Fahidi fortress, shop for exotic spices, and explore the imposing Grand Mosque. The program includes visits to the Heritage Village, Gold Souk and the Date Market. A visit to the Al Ain National Museum and Sheikh Zayed Palace Museum, is a must, as is a trip to the camel race track. Travelers will explore a date palm grove with the ancient 'falaj' and head to Jebel Hafeet, the great mountain that enjoys an awe-inspiring location overlooking the beauty of Al Ain city. As well, the hot springs situated at the foot of the mountain welcome travelers to soak in their healing waters.
The open air marketplaces of Souk Al Arsa and Blue Souk surge with excitement, featuring hundreds of local traders and souvenirs to consider taking home. Here visitors can enjoy traditional music & dancing, and exotic cuisine. With time at leisure, adventurers can see the incredible Jumeirah Mosque, the benchmark of modern Islamic architecture, and take-in the views of the Burj Al Arab – the recognizable sail-shaped building that is considered to be the only 7-star hotel in the world. From its remarkable buildings boasting some of the world's most stunning architecture to its old world customs that offer glimpses into the past, travelers will sample Abu Dhabi's blend of past meets present at every turn.
"At STI Travel by Central Holidays, we are thrilled to showcase the magic and mystique of Abu Dhabi with outstanding opportunities to live the grandeur of this destination firsthand. Our destination experts know the ins and outs of this city and are on hand for our travel agent partners to deliver the best in travel for their clients," said Jimmy Zitani, Vice President of Sales for the Central Holidays family of companies.
To Book: For more information, to book this splendid "Discover Abu Dhabi" travel package call 1-800-935-5000.
About STI Travel
STI Travel USA, part of the award-winning Central Holidays family of travel brands, takes travelers to experience "carefully orchestrated journeys" – as their motto says – to an ever-increasing array of destinations in Europe, Asia, Africa, South America and Central America. The company provides tailor-made programs focused on creating cherished memories of discovery, enjoyment, and relaxation where every destination, cruise, cultural circuit, safari and sea resort vacations can be relished individually or in groups. From its US-based team to their offices in Egypt and throughout the Middle East, STI is with travelers every step of the way…from the planning stages, to your enjoying the adventure of their dreams, and beyond. For additional information visit the company online at sti-travel.com.
About Central Holidays
Founded in 1972, Central Holidays offers superior travel programs, value, and service to enchanting destinations across the globe. Destinations include Italy, Spain, Portugal, France, Cyprus, Greece, Turkey, and Croatia. The company also offers dozens of Mediterranean and European river cruise itineraries, worldwide ski programs, religious pilgrimage travel, as well as people-to-people educational exchange travel to Cuba! The company's sister brand, STI by Central Holidays, presents novel travel opportunities throughout Central and South America, Africa, and the Middle East. Central Holidays and its family of travel companies remain at the forefront of the global tourism and travel industry, offering the most diverse range of travel programs that support brand promises of reliability, expertise, and flexibility. For more information, contact Central Holidays at 1-800-935-5000 or visit centralholidays.com.