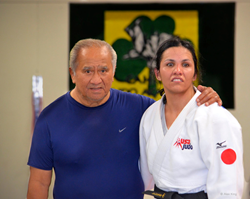 You've gotta dance like there's nobody watching, Love like you'll never be hurt, Sing like there's nobody listening, And live like it's heaven on earth." ― William W. Purkey
Redmond, WA (PRWEB) May 03, 2016
Christella Garcia is the youngest of six children in her family and was born blind. Having four brothers and one sister, Chris, as she likes to be called had to always compete among her siblings helping to evolve from her role as "the baby of the family." Competing among her siblings only fueled her to be challenged and motivated not only within the family but among her friends.
At an early age, she was not going to be left behind whether in school, sports or other so called "normal" activities kids seem to gravitate to. Learning Braille started at age three. Unfortunately, today most blind people do not consider learning Braille if they are blind as there are other electronic alternates taking its place. Having parents wanting the best for Christella included Braille training, no questions asked.
According to the American Printing House for the Blind and other organizations report only 10% of blind individuals learn Braille. If one does not know Braille, they are considered illiterate according to many blind organizations promoting the study of Braille. Once again there were early clues that blindness was not going to limit this young woman's future.
Winning isn't new to Christella whether on the tatami (mat) or off being the youngest sibling of four older brothers and one sister growing up. Graduating from High School in 1997, she already had her vision set to attend and graduate from massage school graduating in one year securing her Massage Therapy Certification in 1998. As an entrepreneur, she has since gone on to create her own business called Angel Hands Massage Therapy and is employed at Massage Envy - Sacramento Pocket.
Following is a listing of some of her more recent Judo accomplishments:
2016 Gold Medal US Judo Nationals, Irving, TX
2015 PanAm Judo in Toronto, Canada
2014 World Judo Championship Games
2012 Team member US Paralympic Games Team, London, England
2011 Team member, Para Pan American Games, Guadalajara, Mexico
2011 Team member, IBSA World Games, Antalya, Turkey
2011 & 2010 Gold medalist, California State Championships (Able-Bodied Event)
2010 5th Place, IBSA World Championships, Antalya, Turkey
2009, 2010, 2011, Gold medalist, USA National Judo Championships for Blind & Visually Impaired
2008 Silver medalist, German Open for Blind & Visually Impaired
2007 5th Place IBSA World Games, San Paulo, Brazil
Not only does Christella train at Capital City Judo and Urijah Faber's Ultimate Fitness in Sacramento, CA, but reached out to Coach Willy Cahill, the legendary and former US Olympic and US Paralympic Judo Coach of the Blind Judo Foundation and Cahill's Judo Academy in San Bruno, CA to fine-tune her skills before competing at the 2016 Judo Nationals in Texas. The expenses for travel, training, lodging and ultimately travel expenses to TX were paid by generous donations to the Blind Judo Foundation.
Do not lose sight of Christella Garcia as she prepares to represent the USA on the world stage this summer as the only female on the US Paralympic Judo Team in Rio de Janeiro, Brazil.
About us:
The Blind Judo Foundation is a nonprofit 501(c) (3) organization who introduces and trains blind and visually impaired children, young adults and our returning blind and visually impaired military men and women in the sport of Judo. Supporting our blind athletes to train, travel, attend camps and compete relies upon your tax-exempt donations.
All members of the Blind Judo Foundation are volunteers. A select few of our elite athletes go on to represent the USA as members of the US Paralympic (not to be confused with Special Olympics) Judo Team. More about the Foundation can be seen on our Facebook page. Ron C. Peck can be contacted at roncpeck(at)blindjudofoundation(dot)org or 1-425-444-8256 or Coach Willy Cahill at 1-650-589-0724