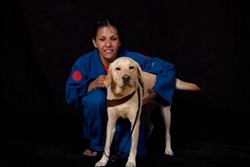 Winning isn't everything--but wanting to win is." ― Vince Lombardi Jr.
Redmond, WA (PRWEB) June 01, 2016
British Judo for the visually impaired is hosting a prestigious event for blind and visually impaired Judoka (Judo athletes) in the run up to the 2016 Rio Paralympic Games in what might be the last international competition and opportunity for visually impaired Judoka before the Rio Games.
Christella Garcia, member of the 2016 US Paralympic Judo Team is not basking in the joy of representing the USA on the world stage in Rio but is constantly training and being exposed to competitive talents and skills challenging her years of training in Judo.
"Balancing work, social life and Judo is not easy" says Christella. "However, I know how important this is to me in managing my time and sacrifice in other areas is worth it all" Christella continues.
Christella is the youngest of six children who was born blind. She knows the value of patience, practice and positive attitude when it comes to excelling in the sport of Judo and other areas of her life. Winning isn't new to Chris who knows what it takes to succeed not only in life but her passion for sports and in particular Judo.
The British Visually Impaired Grand Prix will be a fantastic opportunity for all nations to rally this event in preparation for the Games in Rio while taking advantage of the British world class training facility being held at the University of Wolverhampton, Walsall Campus' Sports Complex near Birmingham, England.
Most importantly, Christella will be able to compete against other champions from around the world without losing her position as the only female on the US Paralympic Judo Team at the Rio Games in September 2016.
Meanwhile, she continues to train at Capital City Judo, Urijah Faber Ultimate Fitness Center and for personal strength and conditioning training under the direction of Miguel Sandoval, at the Olympus Sports Coliseum in Sacramento, CA. She does this while working as a massage therapist at Massage Envy – Sacramento Pocket.
Besides her commitments in Sacramento, Christella also schedules time to travel by bus, train and the BART (Bay Area Rapid Transit) to the legendary Cahill's Judo Academy. Here the former US Olympic and US Paralympic Judo Coach Willy Cahill and co-founder of the Blind Judo Foundation provides training techniques from his 65 years of experience in Judo.
The Blind Judo Foundation is able to financially help worthy blind and visually impaired Judoka with certain out-of-pocket expenses by generous tax-exempt donations as a nonprofit 501(c) 3 organization.
About us:
The Blind Judo Foundation is a nonprofit 501(c) (3) organization who introduces and trains blind and visually impaired children, young adults and our returning blind and visually impaired military men and women in the sport of Judo. Supporting our blind athletes to train, travel, attend camps and compete relies upon your tax-exempt donations.
All members of the Blind Judo Foundation are volunteers. A select few of our elite athletes go on to represent the USA as members of the US Paralympic (not to be confused with Special Olympics) Judo Team. More about the Foundation can be seen on our Facebook page. Ron C. Peck, Co-Founder can be contacted at roncpeck(at)blindjudofoundation(dot)org or 1-425-444-8256 or Coach Willy Cahill at 1-650-589-0724