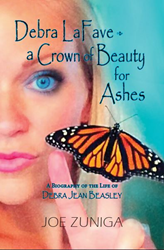 Tampa, FL (PRWEB) December 14, 2016
Author Joe Zuniga has released a book Debra LaFave – a Crown of Beauty for Ashes: A biography of the life of Debra Jean Beasley, about the infamous teacher who was accused of having sex with a 14-year-old middle school student in Temple Terrace, Florida in 2004.
"As a person who has made some pretty bad decisions myself, I'm a firm believer in second chances. After serving years in Federal prison, I found God, put myself through college and started a successful business. At that point in my life, I became acquainted with Debra LaFave and was saddened when I learned about some of the tragedies that impacted her life," explains author Joe Zuniga.
In 2005 LaFave plead guilty to two counts of lewd or lascivious behavior involving a minor between the ages of 12 and 16. The public outcry about this incident was tremendous, and while there have been numerous similar cases since this time, none seemed to generate the outrage that was directed toward the beautiful, married teacher Debra LaFave as a result of the 2004 incident at Greco Middle School. She was released from probation in December of 2014.
Zuniga believes, "Abuse left a huge wound gaping in her [Debra LaFave's] soul. She used men and other false bandages to heal it. The bandage started to unravel when one particular student came into her life." The book details some of the trauma and drama from Debra's life as well as notes from therapy sessions and truths about her mental health.
Debra LaFave – a Crown of Beauty for Ashes is being published by Peppertree Publishing and is available at Amazon.com and BarnesandNoble.com. Joe chose the title of the book based on the Old Testament Bible passage in Isaiah 61:3 in which the Lord promises to bestow on those who grieve, "a crown of beauty instead of ashes." While Debra LaFave is not receiving any money because of the book, she agreed to share her story with Joe Zuniga, provided part of the proceeds were donated to charity. The author chose the Ruskin Community Development Foundation as a way to honor Debra's request and his mother's legacy.
Paperback: 112 pages
Publisher: The Peppertree Press (September 18, 2016)
Language: English
ISBN- 978 -1 – 61493 – 469 - 1
Product Dimensions: 5.5 x 8.5 inches
About Author Joe Zuniga
Joe Zuniga was born in Miami and is the product of a single mother with a Christian upbringing. Joe and his family were migrants that traveled throughout the country working in the fields, picking vegetables and fruits. He lived in government housing as a child and attended a Head Start program through the Redlands Christian Migrant Association. As a teenager, Joe discovered a love for music and aspired to become a recording artist; however, peer pressure and temptation led him down the wrong road, and Joe landed in prison. After completing five years in prison and four years supervised release, Joe made major changes in his life. He earned a degree in business, studied in Europe, and launched his own company Zuniga Marketing, Inc. In 2012, Joe became the first singer in Florida to be nominated for a Tejano Music Award, and he won a Tejano Globe Award for his first single, "Atado A Tu Amor." Joe's mother passed away on New Year's 2015, but she inspired him to tell his story and help others. Joe performs music and shares his powerful story in a unique, entertaining, and inspirational way as a motivational speaker. For more information, visit http://www.DebraLaFaveACrownOfBeautyForAshes.com
About the Publisher
The Peppertree Press, located in Sarasota, Florida, is an independent publisher created to help authors navigate the ever-changing terrain of book publishing. With a growing international presence, The Peppertree Press has published a number of award-winning books which have been recognized by such prestigious awards programs as the Readers' Choice Awards, the Royal Palms Literary Awards, and the Mom's Choice Awards. The Peppertree Press is located at 1269 First Street, Suite 7 in Sarasota, Florida 34236 and can be reached at (941) 922-2622 or http://www.peppertreepublishing.com.