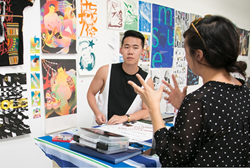 "When all of the studios present back to back... it is powerful, inspiring and memorable for the entire audience." says Kali Nikitas, Founding Chair of the MFA Graphic Design program.
Los Angeles, CA (PRWEB) June 07, 2016
The Graduate Graphic Design program at Otis College of Art and Design will host internationally recognized talent from Copenhagen, Paris, Miami, Amsterdam, and Buenos Aires for their annual Design Week event, held June 12th – 17th, 2016.
Visiting artists include Buenos Aires-based designers Martin Huberman of Estudio Normal and Ariel Di Lisio of creative branding agency Twentyfive; Amsterdam-based studio Drawswords and designers Nuankhanit Belle Phromchanya, and Marijke Cobbenhagen; artists from Copenhagen's All the Way to Paris as well as members of Paris-based S.Y.N.D.I.C.A.T. In addition, ADC YoungGun and Miami-based graphic designer Silas Munro will round out this year's group of industry innovators.
Design Week 2016 is a one-week intensive that will expose incoming and current MFA candidates to internationally recognized visiting artists who exemplify alternative practices. A public lecture featuring all of the participating studios will be held on Sunday, June 12th, with a reception to follow.
"When a studio is asked to prepare a ten minute lecture, each word and every image is carefully curated. In addition, when all of the studios present back to back over the course of ninety minutes, it is powerful, inspiring and memorable for the entire audience." says Kali Nikitas, Founding Chair of the MFA Graphic Design program.
PUBLIC LECTURE: DESIGN WEEK 2016
June 12, 2016
5:00 – 7:00 pm
Otis College of Art and Design
Elaine and Bram Goldsmith Campus – Lighting Studio
9045 Lincoln Boulevard, Los Angeles, CA 90045
Open to the public, reception to follow.
For more information, visit http://www.otis.edu/calendar/special-lecture-design-week-2016.
Launching the week's workshops will be Dutch graphic designer Petr van Blokland's famous "Design Game." This day-long site-specific game introduces students to creating high-stakes design solutions, preparing them for the week ahead. Additional workshops will pair visiting artists and students teams with a Los Angeles-based partner organization that serves to make a difference in small and large communities. Organizations such as LA Commons, Santa Monica Mountains, Access Books and others will benefit from the creative solutions the teams develop. For more information on Design Week 2016, visit http://www.otis.edu/calendar/design-week-2016-game.
This program is supported by the Consulate General of the Netherlands in New York.
ABOUT THE GRAPHIC DESIGN LIMITED-RESIDENCY MFA PROGRAM
The limited-residency MFA in Graphic Design provides a rigorous and challenging academic and studio environment for candidates interested in enhancing their current professional practice. The Department educates conscientious individuals who recognize the value of design and its role in society. The curriculum provides students with instruction by core faculty, visiting faculty, and visiting artists who are recognized nationally and internationally in in their design and art practices.
ABOUT OTIS COLLEGE OF ART AND DESIGN
Established in 1918, Otis College of Art and Design is a national leader in art and design education. The College mission is to prepare diverse students of art and design to enrich our world through their creativity, skill, and vision. Alumni and faculty are Fulbright, MacArthur, and Guggenheim grant recipients, Oscar awardees, legendary costume designers, leaders of contemporary art movements, and design stars at Apple, Anthropologie, Patagonia, Adobe, Pixar, DreamWorks, Mattel, Nike, and Disney.
Otis enrolls approximately 1,100 full-time students, and offers Bachelor of Fine Arts degrees in Architecture/Landscape/Interiors, Digital Media (Game and Entertainment Design, Animation, and Motion Design), Fashion Design, Communication Arts (Graphic Design, Illustration, and Advertising Design), Fine Arts (Painting, Photography, and Sculpture/New Genres), Product Design, and Toy Design. Otis also awards the Master of Fine Arts degree in Fine Arts, Graphic Design, Public Practice, and Writing.
The five-acre main campus is located on L.A.'s Westside near the beach and LAX; the Graduate Studios are in nearby Culver City, and in the 18th Street Arts Center in Santa Monica.
2,700 adults and children participate in Continuing Education art and design classes and workshops.
Additional information is available at http://www.otis.edu.