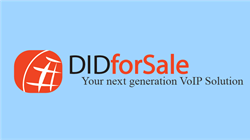 "Before DIDforSale, we had call quality issues along with frequent dropped calls with the previous vendor. DidforSale is an Authorized ShoreTel Provider that has helped us in getting high call quality at a lower price."
Costa Mesa, CA (PRWEB) November 01, 2016
DIDforSale is pleased to share that the company's SIP Trunking service is now being used by ReleasePoint, a distinguished medical records retrieval company for insurance carriers. DIDforSale is well known for their cost efficient VoIP service, and ReleasePoint is now using the company's SIP Trunking for inbound and outbound calls utilizing their ShoreTel Phone System.
DIDforSale's Low Cost SIP Trunking is a proven solution for businesses looking to replace their traditional phone lines. Some of the most important benefits of this calling solution include, but is not limited to

Compatible with any SIP Compatible PBX or SIP Trunking Softswitch
Relieves users from investing in expensive TDM equipment
Low monthly rates, per channel or per minute
Users only pay for the trunks they use
Single internet connection works for data and voice
Suitable for organization at multiple locations
Redundancy with multiple SIP Trunking Service providers
Flexible termination of calls to preferred providers
Managed by business professionals with over two decades of experience in the medical record retrieval industry, ReleasePoint delivers an extremely high level of service, compliance and value to medical providers across the country. The company's areas of specialization include workflow/process management, information security and compliance, system integration and database development, and customer support.
Highlighting the company's experience with DIDforSale, the CEO/CTO of ReleasePoint Derrick Halvey said, "Before DIDforSale, we had call quality issues along with frequent dropped calls with the previous vendor. DidforSale is an Authorized ShoreTel Provider that has helped us in getting high call quality at a lower price. We experienced no dropped calls during testing with them." He also added, "The sales and support teams were very helpful and diligent. After installation, we faced internet related issues and DIDforSale helped us troubleshoot and point us in the right direction for faster resolution."
About DIDforSale:
DIDforSale is a subsidiary of Cebod Technologies LLC, based in California, USA. They take pride in providing quality service to the customers at an affordable rate. Their network is optimized to minimize call drops, lags, and echoes. Having partnered with service providers both in the US and beyond, DIDforSale handles their clients' calls with an extraordinary call quality. Some of their most popular services include SIP Trunking, DID-number, toll free, SMS, local phone numbers, A-Z Termination, and much more. http://www.didforsale.com
About ReleasePoint:
ReleasePoint is a leading provider of national medical record retrieval services, offering dynamic solutions that satisfy the needs of customers in insurance, legal, disability, SSDI and research markets. http://www.releasepoint.com