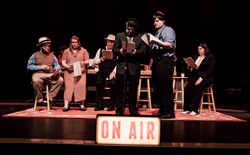 Radio was "the theater of the mind." Our annual live broadcast not only builds on that tradition, it serves as a valuable experiential learning opportunity for students in our broadcast communications program
Bangor, Maine (PRWEB) October 28, 2016
Doors will creak and heartbeats will be audible as we hear the clock strike midnight. Has something macabre taken place?
To find out, residents of the greater Bangor area will have to attend the live radio broadcast of Edgar Allan Poe's "The Facts in the Case of M. Valdemar" at the Gracie Theatre on Friday, October 28 at 7:30 p.m.
This live radio broadcast harkens back to the 1940s when radio was the leading form of popular entertainment. In the spirit of such popular programs as "The Shadow," "Lights Out" and "Inner Sanctum Mysteries," Husson University will perform a live 1940's-style radio drama from the stage of the Gracie Theatre. Billed as "Tales of Mystery and Imagination," this award-winning broadcast features a cast of Husson University students and local area residents performing an adaptation of the classic Edgar Allan Poe horror story, "The Facts in the Case of M. Valdemar."
The performance is free and open to the public. Members of the Gracie Theatre audience will have the opportunity to see everything that goes into the creation of a live radio drama – including the terrifying sound effects. Those not in attendance can listen to this live broadcast over WHSN 89.3 FM or listen to the live feed through the station's website.
"The Facts in the Case of M. Valdemar" is about Ernest Valdemar, an author who recently learned that he has incurable tuberculosis. On the verge of death, he agrees to be part of an experiment where he is mesmerized (hypnotized) right before he dies. What answers will Valdemar provide to those in the room as his body is frozen in death?
Ken Stack, an instructor in the entertainment production program at the New England School of Communications at Husson University, is the director of the radio play and is looking forward to the upcoming performance. "Works by Edgar Allan Poe are an important part of our literary history. Our broadcast brings our students, our audience and WHSN listeners back to the days when radio brought culture into the homes of millions of Americans who might otherwise not have had exposure to the works of celebrated authors."
Stack continued: "You see, radio was "the theater of the mind." Our annual live broadcast not only builds on that tradition, it serves as a valuable experiential learning opportunity for students in our broadcast communications program. In this way, we enrich the education of both our students and our audience."
In past years, "Tales of Mystery and Imagination" has received accolades and recognition from a variety of organizations. Recognition for past productions includes:
"The Cask of Amontillado"
2011 – Broadcast Education Association (BEA) Festival of Media Arts - Honorable Mention Student Audio Comedy or Drama category
"The Fall of the House of Usher"
2012 - BEA Festival of Media Arts - First Place Student Audio Comedy or Drama category
2013 - College Media Association Pinnacle Awards - Finalist - Best Radio Talk/Entertainment Program
"The Masque of the Red Death" and "The Pit and the Pendulum"
2013 - Maine Association of Broadcasters - Second Place Locally Produced Program category
"The Murders in the Rue Morgue"
2014 - College Media Association Pinnacle Awards - First Place - Best Radio Talk/Entertainment Program
2014 - BEA Festival of Media Arts - First Place Student Audio Comedy or Drama category
2014 – College Broadcasters, Inc. (CBI) National Student Production Awards - Finalist Best Special Broadcast
2014 - Maine Association of Broadcasters -Third Place Locally Produced Program category
In reflecting on the success of the live radio show, Husson University Provost Lynne Coy-Ogan remarked, "After seeing the broadcast, members of greater Bangor community will understand why the New England School of Communications at Husson University is regarded as one of the region's leading educators of media professionals. The professional quality of our students and the broadcast is impressive."
Since the radio drama is being simulcast on WHSN-FM, the show will start promptly at 7:30 p.m. Individuals interested in attending the live performance at the Gracie Theatre are requested to be in their seats no later than 7:20 p.m.
Started in 1974, WHSN is licensed to Husson University. Over the course of the 30+ years the station has been on the air, WHSN has helped launch the careers of countless radio professionals. Graduates have gone on to work at radio stations all over Maine and throughout the world. WHSN 89.3 FM was one of five stations nominated to receive a Marconi Award as the Noncommercial Station of the Year from the National Association of Broadcasters (NAB) in 2016. This radio drama is just one example of the quality programming available through WHSN. The station's student staff are responsible for all aspects of broadcast operations.
Completed in October of 2009, The Gracie is Husson University's center for the fine and performing arts. This beautiful new 500-seat theatre is quickly earning a reputation as one of Maine's premier performance venues. In addition, The Gracie also serves as a learning platform for students from the New England School of Communications in digital audio, sound mixing, set design and construction, lighting, acting and electronics. For more information, visit GracieTheatre.com
The New England School of Communications (NESCom) at Husson University offers Bachelor of Science degrees in communications technology, mass communications, and entertainment production. Within these degrees, students may choose from concentrations in audio engineering, live sound technology, video production, web media, entertainment production, journalism, marketing communications, radio broadcasting, and sports journalism. NESCom specializes in communications and provides students with a hands-on experience that gives them the education and skills needed for today's job market.
For more than 100 years, Husson University has prepared future leaders to handle the challenges of tomorrow through innovative undergraduate and graduate degrees. With a commitment to delivering affordable classroom, online and experiential learning opportunities, Husson University has come to represent superior value in higher education. Our Bangor campus and off-campus satellite education centers in Southern Maine, Wells and Northern Maine provide advanced knowledge in business; health and education; pharmacy studies, science and humanities; as well as communication. In addition, Husson University has a robust adult learning program. For more information about educational opportunities that can lead to personal and professional success, visit Husson.edu.