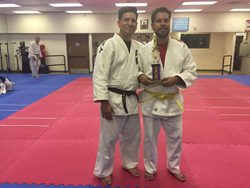 Never bend your head. Hold it high. Look the world straight in the eye.....Helen Keller
Redmond, WA (PRWEB) October 04, 2016
Edgar Cabachuela learned of the Blind Judo Foundation over a year ago after being inspired by a wrestler Peter Senerchia who goes by the ring name of Tazz. Somehow being inspired by Tazz, Edgar wanted to reach out and learn more about Judo for the blind.
He contacted Ron C. Peck, Co-Founder of the Blind Judo Foundation who learned more about Edgar and in turn contacted a longtime friend and fellow Judoka Sensei Gary Goltz. It was suggested by Goltz that the closest dojo (Judo gym) nearest Edgar's home was the Industry Sheriff's Judo Club who would welcome Edgar to their Club.
Since meeting head instructor Sensei Butch Ishisaka and fellow Instructor Sensei David Matutte, Edgar found a home to build upon his inspiration of becoming a seasoned blind Judoka (Judo athlete) with a clear vision of the 2020 Paralympic Games in Tokyo.
"Judo is a sport that requires dedication, practice, competition and hard work," according to Edgar. He continues by saying, "I have programmed Judo into my weekly and monthly schedule and I am willing to make the sacrifice to learn what is necessary to become a champion." "The Tokyo 2020 Games are not far off when it comes to learning the necessary skills required to become a candidate for the US Paralympic Judo Team," continues Edgar.
Being true to his word, Edgar enrolled in a recent West Covina Sensei Memorial Novice Judo Tournament bringing home a trophy for 2nd Place in his division. Tournaments are a must when building ones Judo skills.
Edgar also plans to attend the UCUSB (University of CA University at San Bernardino) on October 1, 2016 to support the DisAbility Sports Festival where Judo will once again be featured for those attending this annual event.
The Head Coach for the Judo event will be Sensei Walter Dean supported by Sensei Gary Goltz both supporters of the Blind Judo Foundation with a long history of working with and training the blind and visually impaired in the sport of Judo.
About us:
The Blind Judo Foundation is a nonprofit 501(c) (3) organization who introduces and trains blind and visually impaired children, young adults and our returning blind and visually impaired military men and women in the sport of Judo. Supporting our blind athletes to train, travel, attend camps and compete relies upon your tax-exempt donations.
All members of the Blind Judo Foundation are volunteers. A select few of our elite athletes go on to represent the USA as members of the US Paralympic (not to be confused with Special Olympics) Judo Team. More about the Foundation can be seen on our Facebook page. Ron C. Peck can be contacted at roncpeck(at)blindjudofoundation(dot)org or 1-425-444-8256 or Coach Willy Cahill at 1-650-589-0724