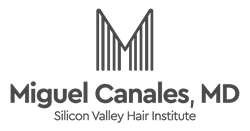 While we are located in Foster City, many San Francisco residents realize that a short drive can get them a more sophisticated clinic and better outcome.
San Francisco, California (PRWEB) December 29, 2016
Silicon Valley Hair Institute, considered one of the top hair transplant centers in San Francisco and the entire Bay Area, is proud to announce an update to the informational page specific to San Francisco residents. Residents of the Bay Area's most prominent city who are searching for directions or details about the best hair restoration or hair transplant options can find easy access to information, including driving directions and pointers to educational assets.
"People can use Google Maps to find our clinic, but a map won't tell them much about how we manage the hair restoration process on a unique patient-by-patient basis for San Francisco city residents," explained Miguel Canales, MD, surgeon and founder of Silicon Valley Hair Institute. "While we are located in Foster City, many San Francisco residents realize that a short drive can get them a more sophisticated clinic and better outcome. Accordingly, the newly updated information page offers details about how to get to our clinic from the city of San Francisco, but also what directions are available for their personal hair restoration success."
To review the information page please visit http://siliconvalleyhairinstitute.com/san-francisco-hair-transplant/. Information about the latest technology in hair restoration and hair transplant surgery can also be found. Details include FUE (Follicular Unit Extraction) and FUT (Follicular Unit Transplant). Another key information page is on PRP for hair loss at http://siliconvalleyhairinstitute.com/prp/. Personalized evaluations by Dr. Miguel Canales can be arranged for San Francisco residents.
San Francisco Hair Transplant Surgery Moves in the Right Direction to Hair Restoration.
Searching for directions may not seem like a difficult task in the ultra-tech-rich Silicon Valley, but routes can change. New construction can block or divert a path that was a main thoroughfare for many Bay Area residents. Time added on to a drive can mean a busy local could be late to an appointment. If San Francisco residents have set a schedule based on the amount of time it takes to get to a destination, the trip can turn out to be frustrating. If a Bay Area resident has decided hair restoration is the right road to take for their lives, searching for the best, and easiest route may also become a trial.
Silicon Valley Hair Institute, the Bay Area's hair transplant experts under the leadership of Dr. Miguel Canales, has recently updated the clinic information page. Thinning hair can be different for women and men.
Each person may require a personalized byway to finding the best hair restoration solution. Like the ever-evolving roads and freeways in the San Francisco Bay Area, changes in hair loss treatments can happen almost overnight. A new technique can mean successful hair regrowth and a clear path to renewing self-confidence. Individual surgical plans and various techniques for hair restoration can be reviewed on the page. Instructions offering the best route to the Foster City hair transplant clinic can also be reviewed.
About Silicon Valley Hair Institute
Silicon Valley Hair Institute, under the leadership of top-rated California hair transplant surgeon Miguel Canales MD, is one of the best facilities offering San Francisco Bay Area hair transplants. Dr. Canales provides the full range of advanced hair transplant and hair restoration procedures for Bay Area residents, from San Francisco to San Mateo to Palo Alto. If one needs a hair transplant specialist, look no further than this Bay Area hair transplant center. Dr. Canales also performs female hair transplants for women and eyebrow restoration, thus offering the best hair transplant and robotic hair replacement options. Call today to 650-551-1100 for a no-cost consultation, or for more information visit http://siliconvalleyhairinstitute.com/.