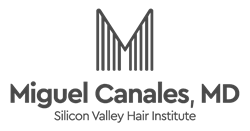 The field of hair transplantation surgery is experiencing a rapid evolution.
Palo Alto, CA (PRWEB) October 26, 2016
Silicon Valley Hair Institute, a top-rated hair transplant center serving San Francisco Bay Area men and women, is proud to release an update to its FUE technology web page. FUE stands for 'Follicular Unit Extraction'. Robots and artificial intelligence may seem commonplace to Silicon Valley residents, and so they are often looking for the latest in robotic hair transplantation techniques.
"The field of hair transplantation surgery is experiencing a rapid evolution, and our goal is to bring breakthrough technology to Bay Area clients as it emerges," explained Miguel Canales, MD, surgeon and founder of Silicon Valley Hair Institute. "Our hair transplant clinic is in an area where the best in technology is an everyday expectation. That's why we've revised our web page to share the latest in FUE hair transplant technology available to our patients. After all, Silicon Valley consumers want to learn, first, on their phones and computers before coming in for the required in-person consultation."
To review the newly updated page on Follicular Unit Extraction, please go to http://siliconvalleyhairinstitute.com/directions-from-palo-alto-hair-transplant/. Details regarding FUE and FUT technology and hair transplant surgery for women and men are available on the website, including other key technologies such as PRP (Platelet Rich Plasma) at http://siliconvalleyhairinstitute.com/prp/. Interested persons are urged, however, to call for a one-on-one consultation as no two persons are alike, and Dr. Miguel Canales will evaluate each patient to determine the best hair restoration course of option.
FUE Hair Transplant: Cutting Edge Hair Transplant Technology in Palo Alto's Backyard
Bay Area residents may expect to be surrounded by revolutionary technology on a daily basis. Newly minted smart phones and other helpful gadgets can pop up around coffee shops and bistros in Palo Alto only a few days after a product launch. Silicon Valley residents may be used to having access to the best technology, including full details about new breakthroughs. If thinning hair is a challenge, locals may be happy to hear a hair transplant leader is located in Palo Alto's own backyard of Foster City, California.
Dr. Miguel Canales has brought state-of-the-art hair restoration technology to the Bay Area community. New advances in hair transplant surgery have led to precise and quick hair extraction and transplantation. Bay Area residents may be pleased to know new FUT surgery has also allowed for a quicker recovery time. Palo Alto residents searching for hair transplant surgery can find the best in groundbreaking technology nearby, and anyone in the world can visit and learn from the newly updated web page on FUE hair transplantation.
About Silicon Valley Hair Institute
Silicon Valley Hair Institute, under the leadership of top-rated California hair transplant surgeon Miguel Canales MD, is one of the best facilities offering San Francisco Bay Area hair transplants. Dr. Canales provides the full range of advanced hair transplant and hair restoration procedures for Bay Area residents, from San Francisco to San Mateo to Palo Alto. If one needs a hair transplant specialist, look no further than this Bay Area hair transplant center. Dr. Canales also performs female hair transplants for women and eyebrow restoration, thus offering the best hair transplant and robotic hair replacement options. Call today to 650-551-1100 for a no-cost consultation, or for more information, visit http://siliconvalleyhairinstitute.com/.