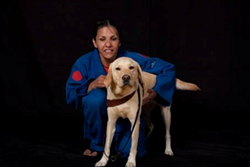 It's essential you create a fiery will from within--harness that power of decisiveness--and choose to be your strongest self---Karen Salmansohn
Redmond, WA (PRWEB) August 29, 2016
Christella Garcia has been preparing her whole life to compete in Judo at the Paralympics. In preparation, she has competed not only in local, regional, national and international tournaments but is training under the former US Olympic and US Paralympic Judo Coach, Willy Cahill, Co-Founder of the Blind Judo Foundation.
Garcia is also a frequent visitor to the OTC (Olympic Training Center) in Colorado Springs, CO, for further refinement of her athleticism in Judo. At the OTC, Christella trains under Ed Liddie, the Director of High Performance for Judo and 1984 Olympic Bronze Medalist; Scott and Heidi Moore, the 2016 Paralympic Judo Coaches for Rio. Moore won the first Gold Medal in Judo at the 2000 Paralympic Games in Sydney.
Whether on the mat (tatami) or off, winning in life is not new for Garcia the youngest of four brothers and one sister. She has created a Skin Care product line called Angel Hands. The Angel Hands products helps to defray costs of being away from traditional employment during the training commitments to Judo and as a Paralympian. One can secure her products by contacting her on Facebook page or email at christellablue(at)gmail(dot)com.
Bringing home the Gold requires not only a mindset but a determination reaching beyond dreams and wishes. It requires daily commitments, practice, travel to competitive tournaments, building endurance, and yes attitude of a winner. When back in Sacramento, Garcia trains at Capital City Judo Club and at the Olympus Sports Coliseum under Magill Sandova for strength and conditioning.
She also travels to San Bruno, CA to train under Coach Willy Cahill, Co-Founder of the Blind Judo Foundation and Owner of Cahill's Judo Academy. The Foundation helps defray costs for travel, training and lodging because of generous donors supporting the work of the Foundation.
Following is a brief look at Christella Garcia's past successes:
2016 Silver Medal Great Britain Grand Prix Judo Championship
2016 Gold Medal US Judo Nationals, Irving, TX
2015 PanAm Judo in Toronto, Canada
2014 World Judo Championship Games
2012 Team member US Paralympic Games Team, London, England
2011 Team member, Para Pan American Games, Guadalajara, Mexico
2011 Team member, IBSA World Games, Antalya, Turkey
2011 & 2010 Gold medalist, California State Championships (Able-Bodied Event)
2010 5th Place, IBSA World Championships, Antalya, Turkey
2009, 2010, 2011, Gold medalist, USA National Judo Championships for Blind & Visually Impaired
2008 Silver medalist, German Open for Blind & Visually Impaired
2007 5th Place IBSA World Games, San Paulo, Brazil
Keep your eye on Christella Garcia as she heads to Rio de Janeiro representing the USA as a member of the 2016 US Paralympic Judo Team.

BREAKING NEWS - JUST RELEASED: Last minute change to the 2016 US Paralympic Judo Team roster will include another female Judoka by the name of Sarah Chung from Illinois. The newest member of the Team will be heading to Rio representing the USA at the Paralympics.
About us:
The Blind Judo Foundation is a nonprofit 501(c) (3) organization who introduces and trains blind and visually impaired children, young adults and our returning blind and visually impaired military men and women in the sport of Judo. Supporting our blind athletes to train, travel, attend camps and compete relies upon your tax-exempt donations.
All members of the Blind Judo Foundation are volunteers. A select few of our elite athletes go on to represent the USA as members of the US Paralympic (not to be confused with Special Olympics) Judo Team. More about the Foundation can be seen on our Facebook page. Ron C. Peck can be contacted at roncpeck(at)blindjudofoundation(dot)org or 1-425-444-8256 or Coach Willy Cahill at 1-650-589-0724