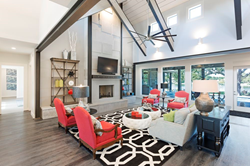 The Parade showcases the premier home builders of the Texas Hill Country - Jayne Mortensen, Executive Director
Marble Falls, TX (PRWEB) October 09, 2016
A number of the finest custom home builders throughout the Texas Hill Country are showcasing beautiful, fully furnished, landscaped and decorated custom homes in the 2016 Hill Country Builders Association (HCBA) Parade Home Tour, being held Oct. 14-16 and Oct. 21-23. The two-weekend tour opens doors to lakefront, ranch living, historic Fredericksburg remodeling, Classic American Farmhouse and reclaimed timber frame homes.
This year, there are multiple homes in Fredericksburg, Johnson City and the Highland Lakes region of Lake Buchanan and Lake LBJ including the Kingsland area. One great addition to this year's Hill Country Home Tour is that two of the homes are for sale. Parade Home Tour homes range in cost from $450,000 to $2 million.
"The Parade showcases the premier custom home builders of the Texas Hill Country," Jayne Mortensen, executive director of the Hill Country Builders Association, said. "They offer the newest in home design, technology and building trends."
The homes in the Fredericksburg area include a stunning 1929 whole house remodel with green-built construction which is located in the downtown area; a beautiful classic American farmhouse-style home complete with vintage, reclaimed–timber construction; an enchanting log-and-timber home used as an office and design center with 18th Century reclaimed lumber beams and logs; a two-story traditional historic-style Fredericksburg home which has a charming English pub in it; a striking modern farmhouse on a ranch with views of Enchanted Rock; and a large cliffside ranch home with a spectacular 180-degree view of the Pedernales River near the site of an early settlers' wagon crossing.
In the Highland Lakes, the Parade features an impressive Lake LBJ family recreation compound with water views from every room in the main house and detached bunkhouse; a delightful modern beach-style townhome on the water; a contemporary home with wraparound porches for panoramic views on The Peninsula at Lake Buchanan; and a lakeside 5,000-square-foot modern architecture masterpiece with multiple outdoor living spaces.
The featured builders in this year's event include:
Bellwether Construction – Horseshoe Bay
Cactus Companies – Marble Falls
Brother Sun Builders – Kingsland
Fusion Master Builders – Fredericksburg
Hills of Texas Homes - Fredericksburg
Hominick Custom Homes – Fredericksburg
Michael Hurst Custom Homes - Fredericksburg
Showcase Builders - Burnet
The Carver Group – Kingsland
Timber & Stone Builders – Fredericksburg
The Hill Country Builders Association is a non-profit professional trade association serving 10 counties throughout the Texas Hill Country with more than 300 members. Members enjoy Continuing Education, Marketing & Promotion, Industry Advocacy and Networking through 3 divisions; Highland Lakes Division (Marble Falls – Horseshoe Bay), Wine Country Division (Fredericksburg, TX) and Guadalupe River Division (Kerrville, TX).
Tickets are $10 per weekend per person. Each ticket will be accompanied by a full-color, 65-plus-page magazine with a map and a People's Choice Award door prize entry.
The 2016 Hill Country Builders Association Parade Home Tour is supported by title sponsor Security State Bank & Trust, plus Coldspring Residential, C & D Home Products Studio, Bath & Kitchen Showcase/Moore Supply, BMC Building Materials and Probuild and Builders FirstSource. Tour hours are from 10 a.m. to 6 p.m. on Friday-Sunday, Oct. 14-16 and Oct. 21-23.
Tickets for the Parade Home Tour are available through the HCBA website at http://www.hillcountrybuilders.org. For more information, visit the website or call the Hill Country Builders Association at 830-798-2266.